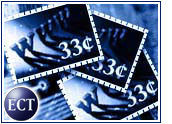 E-Stamp Corp. (Nasdaq: ESTM) said Monday it will phase out its online postage business to concentrate on Internet-based shipping and logistics.
As part of the plan, the Mountain View, California-based company said it will cut about 30 percent of its jobs.
E-Stamp president and chief executive officer Robert (Bo) Ewald said the company has seen "less favorable results" from its Internet postage business, and decided to "redeploy" its resources. E-Stamp said it had cash and cash equivalents of about US$40 million at the end of the third quarter.
"Over the past two quarters, E-Stamp has steadily been outlining a more aggressive move into shipping and logistics," Ewald said. "Our acquisition of two logistics companies in May of this year enabled us to move into the supply-chain execution market, which, according to a recent report by AMR, is expected to reach $8 billion by 2004."
Company Rerouted
E-Stamp's logistics businesses, Digital Shipper and e-Warehouse, count among their customers Oracle Corp., Intel Corp., Symbol Technologies and the California Department of Forestry.
In 1998, E-Stamp became the first company to receive U.S. Postal Service approval for Internet postage technology and the first company to offer Internet postage commercially.
However, E-Stamp and its rival, Stamps.com (Nasdaq: STMP), have seen their stock prices slump this year as the Internet postage business fails to gain much interest from consumers and businesses.
Dead Letter Office?
Stamps.com, also in a cost-cutting mode, recently announced a 40 percent reduction in staff and a cut in sales and marketing spending.
The value of E-Stamp shares more than doubled after the news was announced early Monday, improving 11/32 to 5/8. The shares, which traded above 40 last December, began a steep decline late last year, and have languished in the single digits since the spring.
E-Stamp said it will continue to "explore alternatives to maximize the value of its assets and intellectual property."
Forwarding Business
To help its postage customers deal with the shift in business, E-Stamp said it is partnering with Neopost Online, which offers Internet postage services. Former E-Stamp customers will be notified of special offers if they switch to Neopost's Simply Postage products, E-Stamp said.
E-Stamp said it ceased shipments of its Internet Postage starter kits on Friday. Customers may continue to purchase postage until December 31st, and the company will provide customer support and accept returns of postage and vaults through March 1st.