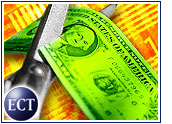 Internet postage company Stamps.com (Nasdaq: STMP) announced Monday that it has slashed its workforce by 40 percent in a bid to streamline its operations and improve profitability.
The cost-cutting measure affects approximately 240 full-time, part-time and contract workers at all of the company's locations, including its corporate headquarters in Santa Monica, California and Bellevue, Washington.
"Although we have nearly $300 million (US$) in cash reserves, today's competitive environment demands that we operate our business at maximum efficiency," said Stamps.com chairman Marvin Runyon. "These moves will strengthen our ability to attain our profitability goals, while adding value to the company."
Company executives said that Stamps.com will focus on growing business subsidiaries and deploying a shipping service aimed at corporate customers.
Losses and Changes
Although Stamps.com executives tout their long-term business model, the company has suffered acute financial losses and has disappointed investors.
Stamps.com shares, which traded as high as 98 1/2 last November, went into a steep slide beginning late last year and reached a 52-week low of 2 5/16 on October 12th. On Monday, the stock was trading at $3 per share, a 10 percent increase from Friday.
The company lost around $20 million during the first quarter of this year. Also, the company announced two weeks ago that chairman and chief executive officer John Payne and director Tom Bruggere were stepping down.
Just days prior these resignations, Stamps.com chief financial officer John LaValle and comptroller Candelario Andalon also said they were leaving the company to pursue other endeavors.
Concept Slow To Stick
Stamps.com is not the only postage e-tailer to have faltered, despite its partnerships with the U.S. Postal Service (USPS), United Parcel Service, FedEx, Airborne Express, DHL and Yellow Freight. Chief rival E-Stamp has also run into a wall on the road to profitability.
Stamps have been available for purchase via the Web for well over a year. Yet while online postage services allow consumers to forgo a trip to the post office, their conveniences have been slow to catch on.
Some analysts speculate that consumers are simply adapting to the technology's learning curve. Other industry watchers, however, maintain that the demand for stamps may soon be a thing of the past as online bill payment expands.
Future Questions
According to the USPS, the $17 billion first-class mail market will drop for the first time ever in 2003. A report released last month by Jupiter Research predicted that by 2005, more than 40 million U.S. households will pay at least part of their bills using Internet bill payment services.
A separate study earlier this year by IDC also forecasted that electronic bill payment and presentment services will generate over $1 billion in revenue worldwide by 2004, compared to just $32 million last year.