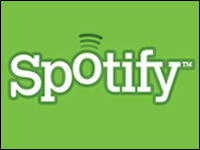 Spotify, a popular European streaming music provider, launched in the U.S. on Thursday. The music site is starting off its U.S. venture with an invitation-only beta that includes free, unlimited and premium plans.
Spotify was first launched in Sweden in 2008 and currently boasts 1.6 million paying users and more than 10 million users total. Spotify reportedly closed a US$100 million round of funding last month, which valued the company at around $1 billion.
Spotify's free plan is supported by advertising; its exclusive launch sponsors include Coca-Cola, Chevrolet, Motorola, Reebok and The Daily. Spotify emphasizes social networking, enabling easy music sharing and discovery.
New users can sign up for a free beta invitation on the Spotify site or skip the waiting queue by signing up for a paid plan. The $4.99 unlimited plan offers ad-free access via computer. The $9.99 premium plan allows access to music offline or online on computers, cellphones and other devices. The plan also includes enhanced sound quality and special offers.
Spotify did not respond to the E-Commerce Times' request for comments by press time.
About Time
Spotify has been talking about breaking into the U.S. market for two years. The American market can be very tricky — even the smartest companies regularly blow it — so Spotify's prudence may have been warranted.
"It's great that Spotify has finally launched in the U.S.," Casey Rae-Hunter, communications director and policy strategist at the Future of Music Coalition, told the E-Commerce Times. "It's been a long tome coming. We had their CEO and founder Daniel Ek at our Future of Music Policy Summit two years ago, and he said then that launch was imminent. Better late than never, I suppose."
Social media features have become important, and Spotify has them in spades, as well as the ability to feature new artists.
"It's a really great service from a consumer perspective. It works well and has strong social integration," said Rae-Hunter.
However, "one thing that isn't clear is whether it will amount to a meaningful revenue stream for musicians and songwriters," she continued. "At this moment in time, payouts to artists are pretty small. On the other hand, all the buzz about Spotify can only be a good thing for the ongoing growth of a legitimate digital music marketplace."
Who Loses to Spotify?
Convincing users to upgrade to a paid plan is an important goal for Spotify. The company hopes to lure users with free tunes in the hope they'll like the service well enough to fork over monthly fees for additional features.
"I believe that at least the ad-funded version is set to become pretty popular," Aapo Markkanen, senior analyst of consumer mobility at ABI Research, told the E-Commerce Times. "What's not to like about free music? But another, more critical matter, then, is how many of its users will convert to premium subscribers."
Apple, as the leading distributor of digital music, stands to lose the most if Spotify grabs the imagination of American users, Markkanen noted, but other U.S.-based music providers may suffer as well.
"Pandora may be under pressure in the sense that they are the leading online radio, and now Spotify will be offering free music, and on demand," said Makkanen.
"I'd expect Pandora to further gear up its mobile activities," he added. "Other on-demand services — Rhapsody, Rdio, MOG — on the other hand, may actually benefit: Consumer education has been an issue for them, so the extra buzz that Spotify creates could give the whole sector a boost."
Not Too Late
The key to U.S. success will be providing an offering that opens new services to users. The cost/benefit ratio will have to be sufficient to attract paid and free users. Otherwise, U.S. music fans already have plenty of choices.
"It's a positive and long-overdue development for the U.S. recording industry, with favorable repercussions for brand marketers and consumers," Paul Verna, a senior analyst at eMarketer, told the E-Commerce Times. "Spotify has a good chance of succeeding in the U.S., but to do so, it will have to demonstrate — through the quality of its product and aggressive marketing — that it's a better value than the likes of Rhapsody, Rdio and MOG."
Spotify will have to compete with a host of U.S. music suppliers, including Pandora, satellite radio, Apple, Amazon, Google and others, Verna noted.
"Today's market is much more competitive than when Spotify launched in Europe two and a half years ago," he said, "so the company will face huge hurdles as it tries its luck in the U.S."
The clear winners will be the major music label groups and music publishers.
"They all dragged their feet on making this deal because of pricing concerns, but they will be the main beneficiaries of a successful Spotify launch," said Verna.
Spotify's social networking slant could make Facebook a big beneficiary as well.
"If the two parties work well together and their current test evolves into a true partnership, Facebook could do for music consumption what it did for social gaming," suggested Verna. "This relationship has the potential to blossom into a symbiosis along the lines of what we saw with Facebook and Zynga."