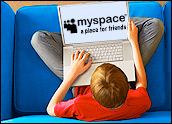 Millions of MySpacers will be able to jazz up their profile pages with streaming videos and select audio material from Sony BMG artists, MySpace announced Tuesday. The deal between the No. 1 social networking site and Sony, the second largest recording label, will make content from artists including Britney Spears, Beyonce Knowles and Bruce Springsteen available via the artists' MySpace profile pages.
"MySpace has always served as a powerful promotional platform for music, and we're pleased to work with Sony BMG to take it to the next level," said Chris DeWolfe, CEO and cofounder of MySpace.
"We look forward to working with Sony BMG and the rest of the music industry to enable people to share their love of music with one another through the next generation of MySpace music services," he added.
Video Mojo
Under the terms of the tie-up, Sony BMG will license music videos as well as select audio material and other content from its roster of artists. Now fans of artists from Bob Dylan to Alicia Keys can highlight the artists' videos on their profile page.
MySpace and Sony BMG will split sponsorship and advertising revenues generated from the music videos and profile pages. MySpace will also partner with Sony BMG to promote the record label's artist throughout the site.
Presumably one major avenue of promotion will be through MySpace Music, which boasts a membership of more than 7 million bands. The artists involved in MySpace Music can keep the music flowing to MySpace's 110 million global users. MySpace Music gives performers and their record labels a direct line to music lovers through an interactive dialog with their fan base via profile pages, according to the social networking site. Artists can keep their fans in the know through e-mail and blogs, post tour dates, upload music, virally share promotional widgets and debut new material.
Financial terms of the deal were not released.
Something for Nothing?
The deal is principally about streaming music videos that record companies have historically treated mainly as promotional content, Andrew Frank, an analyst at Gartner, told the E-Commerce Times. As a result, labels have a more relaxed attitude about videos and have been much more liberal about licensing them than their core music products.
Both companies come out on top in the deal, Frank continued, because it gives Sony "a great way to promote their artists, and it gives MySpace more content for attracting users and artists."
Whether other music labels will jump on the bandwagon is up in the air, however.
"It's hard to say for certain, given that financial terms were not disclosed, but this seems like a definite win all around," Frank said.