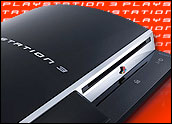 Qore, an interactive monthly program, will launch on Sony's PlayStation Network on June 5, Sony Computer Entertainment America (SCEA) announced Tuesday.
Available the first Thursday of each month, Qore is the current console generation's version of the disk give-aways many PlayStation 2 owners may remember. The discs periodically accompanied issues of Official PlayStation Magazine and were part of the "PlayStation Underground."
"It's good to have differentiated content. It's a great replacement for the thing they used to do with the discs because that probably didn't get much distribution or use. [With] this, potentially everybody who has a PS3 and is online with it will be able to download it," said Billy Pidgeon, an IDC analyst.
Qore Plans
Qore's monthly episodes will include exclusive content such as multimedia news, developer interviews, in-depth game previews and behind-the-scene looks at popular PlayStation games. The programs will also offer special access to game demos, betas, add-ons and other downloadable and game-related content, SCEA said.
The first episode will feature in-depth, exclusive and never-before-released content on upcoming gaming titles including "SOCOM: U.S. Navy SEALs Confrontation," "Star Wars: The Force Unleashed," "Secret Agent Clank," "Soul Caliber 4," and "Afro Samurai."
The program will also include Blu-ray trailers, beta invitations, art galleries and downloads, in addition to other surprise content.
The high-definition episodes are interactive, affording subscribers the ability to customize the program using their Sixaxis or Dualshock 3 wireless controllers to direct the content and access and control how they view it, using multiple windows, picture-in-picture and other features.
Gotta Pay to Play
The catch? Each issue will cost PS3 users an introductory price of US$2.99, or $24.99 for an annual subscription of Qore's 13 episodes. The programs will also reportedly include advertising from sponsors such as Burger King.
"It is for pay, and that could be an inhibitor. It is basically promotional material, and it might be more effective if it were given away," Pidgeon told the E-Commerce Times.
However, he acknowledged that games and beta invitations will serve as a compelling lure for gamers.
"It's a good start. They need to have unique content, including the games as well, to improve the PlayStation network experience so that they can attract a lot of gamers to it. And on the good side, paying for something does bring a certain level of commitment," he concluded.