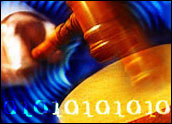 A sting operation started last fall led the Software & Information Industry Association (SIIA) to file civil lawsuits against two software pirates Thursday.
Peter Beruk, SIIA's vice president in charge of anti-piracy, told the E-Commerce Times that several months ago, two people informed the SIIA that after they placed bids at online auctions for software, they were contacted via e-mail by people offering the same software at a discount price.
The SIIA sent e-mails to the sellers saying they would be interested in buying the software. After exchanging several e-mails, transactions with both individuals were arranged and completed. Beruk said the entire sting was conducted via e-mail from computers at the SIIA offices.
The trend of using online auctions to find prospective buyers has been called "data-mining." Because online auction houses have cracked down on auctions of pirated software, would-be pirates have begun culling e-mail addresses from online auctions and then sending solicitations via e-mail to auction bidders.
"The problem is literally out of control," Beruk said.
Risk of Jail
According to Beruk, one of the defendants, Julian Kish of Chicago, Illinois, knew what he was doing was wrong. In one of his e-mail exchanges with the SIIA, Kish said that the reason he charged so much for CDs was because of the time associated with creating them and because of the risk of going to jail.
In the suit against Kish, which was filed in U.S. District Court for the Northern District of Illinois, the SIIA alleges that he sold six software titles with a retail value of $5,594 for $50 to SIIA. Beruk said the trade group sued Kish after he received and ignored several "cease and desist" letters sent on behalf of the SIIA.
The other suit, filed in U.S. District Court for the Northern District of California against Michael Chu of Los Altos Hills, California, alleges that Chu sold 22 software titles with a retail value of $54,000 for $145 to SIIA.
Both suits were filed on behalf of Adobe Systems, Inc., Alias|Wavefront, a division of Silicon Graphics Limited, and Macromedia, the copyright holders of the pirated software involved. The defendants both face fines of up to $150,000 per violation for copyright infringement.
Rising Tide
Software pirates have been forced to find other ways to sell their counterfeit goods because of the crackdown by major online auction houses. A report issued last April by the SIIA estimated that 91 percent of all software sold through online auctions is counterfeit.
Beruk said that the SIIA first became aware that software pirates were turning to data-mining to sell pirated software last summer and said the practice has grown exponentially since that time.
To illustrate how widespread the practice is, Beruk said that on Monday the SIIA bid on software up for auction at a major online auction house because the organization wanted to determine whether it was legitimate. Within two and a half hours, Beruk said the SIIA had received four e-mail solicitations from individuals who offered to sell them the same software at a discount.
Although software pirates have been smart enough to turn away from auctioning their illicit wares at the major Net auction houses, they are surprisingly not very guarded in their business practices. In some instances, SIIA employees used their SIIA e-mail addresses to respond to auction pirates, but the pirates nevertheless continued to correspond with them.
More Cases Coming
Beruk classified Thursday's lawsuits as "a shot across the bow" and promised that more lawsuits would be filed against data-mining software pirates. He added that the SIIA would also be working with the U.S. Federal Bureau of Investigation (FBI) to pursue possible criminal prosecution of software pirates.
Although data mining is a fairly new phenomenon, the SIIA and other watchdog groups have been tenacious about tracking down and taking action against pirates who use the Internet to traffic in illicit goods. Last June, the Interactive Digital Software Association (IDSA) took 13 computer and video game companies to court to shut down six Web sites allegedly selling pirated copies of their software.
Additionally, both the SIIA and the Business Software Association (BSA) have issued separate sets of guidelines to crack down on Net auction pirates. Both sets of guidelines urge online auction houses to voluntarily take action to stop the new breed of software pirates.
When the BSA issued its guidelines in December, BSA vice president of enforcement Bob Kruger told the E-Commerce Times that the new guidelines are necessary because "many of the people who used to sell software at card tables at flea markets have migrated to online auction sites."