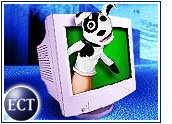 The search is over. The ultimate symbol for the meteoric rise, painful fall and slow, strange resurrection of the dot-com empire has been found.
Starting next month, the one-time Pets.com sock puppet will begin appearing in television commercials for a company that finds car loans for people with less-than-stellar credit histories.
The puppet has moved from dot-com icon to MIA mascot to spokesman for a bad-credit-no-problem loan company. How fitting. It's a script that could only be written by the Internet economy.
Prize to the Puppet
Starting in July, the smarmy sock puppet, which found fame in the clever — if obnoxious — Pets.com ads, will make its debut in 30-second spots for 1-800-Bar None. The Pleasanton, California-based company uses a Web platform to find and arrange auto loans for people with past credit problems.
Like other dot-com resurrection jobs, this one hopes to pay a little to get a lot. In this case, Barnone.com hopes to use Pets.com's massive investment in a silly toy — the puppet has appeared in Super Bowl ads and floated through Manhattan as a balloon in the Macy's Thanksgiving parade — to gain relatively inexpensive publicity and recognition.
The ploy will probably work. The sock puppet isn't just a perfect metaphor for the dot-com roller coaster. It's also the perfect mascot for this company, whose message is a perfect fit for the puppet.
Right On
"We're glad to be able to give the Sock Puppet a second chance, just as we already have for millions of auto consumers who have needed a second chance," the company's CEO said in a statement, dutifully staying on message.
He has no idea how right he is. Indeed, it is appropriate that the puppet should have a second chance.
After all, the Pets.com domain is back in business, although it serves merely to funnel traffic to Petsmart.com. And dozens of other onetime Internet superstars have returned in supporting roles.
Second Verse
But there's a drawback to most second chances: They're rarely as promising as first ones. Just ask the people who get car loans despite spotty credit histories. Ask the eToys.com domain, which now serves as just another way to buy toys from KB Toys. Ask Furniture.com, which once harbored IPO dreams but is aiming for less dizzying heights, at least right away, in its second incarnation.
But the sock puppet might have a chance to make it big, even on the second attempt. The ad firm that is licensing it to Barnone, Hakan & Associates, gave the world the Taco Bell Chihuahua a few years ago. In the process, it won a bunch of awards and created an instantly recognizable nonhuman celebrity.
Is the sock puppet the next great advertising star? Time will tell. But if it can scale the heights of popularity again, why can't the rest of the dot-com world? I, for one, am rooting for the puppet for all that it represents.
Everyone deserves a second chance.
What do you think? Let's talk about it.
---
Note:
The opinions expressed by our columnists are their own and do not necessarily reflect the views of the E-Commerce Times or its management.
---