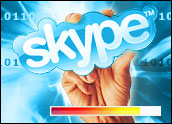 Skype on Wednesday announced that it is launching subscription plans to more than 170 countries with substantial savings over the company's standard rates for calling mobile phones and landlines.
Starting Thursday, Skype's range of calling subscriptions will start from as little as US$1.09 per month and offer effective rates as low as $.01 per minute to almost any destination around the globe. The subscriptions will offer savings of up to 60 percent over Skype's standard, pay-as-you-go rates, the company said.
Users of the new plans will need only to specify the countries they wish to call, along with whether they'll be calling mobile phones, landlines or both. They'll also be able to choose from among a wider variety of subscription plans, ranging from 60 minutes to unlimited packages. One-month, three-month and 12-month calling subscriptions will all be available.
Video Chats for Five
Also on Wednesday, reports emerged that Skype will soon begin a public beta test of its new group video chat feature.
Enabling up to five people to participate in a video call at once, the feature will be free when the beta test launches next week, the Associated Press reported. Eventually, however, Skype plans to charge a fee for the service, Neil Stevens, general manager of Skype's consumer business segment, told the AP.
A Windows version of group video chat will reportedly launch first, followed by a Mac version later in the year.
12 Percent of Global Calls
"As part of a suite of new premium features coming out later this year, Skype offers consumers and businesses the ability to make video calls with more than one person at a time," company spokesperson Meghan Cross told the E-Commerce Times. The initial offer will involve a free beta trial, she said. [*Update – May 5, 2010]
Perhaps best known for providing free voice and video calling between Internet-connected computers, Skype since 2005 has also offered low-cost options for users who want to call landline or mobile phone numbers.
Calling through Skype now accounts for 12 percent of the world's international calls, the company stated, citing TeleGeography Research data. In March, the company announced its Skype mobile service, starting with nine Verizon Wireless 3G smartphones.
Skype will continue to offer its existing Skype Credit and Pay As You Go options for non-subscribers, it said.
Turning Devices Into Phones
"With more than 500 million users globally, Skype is a growing telephony powerhouse," Greg Sterling, founder and principal with Sterling Market Intelligence, told the E-Commerce Times.
The United States, where penetration is less, is "a growth market for the company," Sterling added.
The company's new pricing options "will be sure to attract more subscribers and, as the quality continues to improve, people will have more confidence using Skype as an alternative to conventional phone lines," he said. "This is especially true in mobile, as new mobile devices like the iPad proliferate."
In essence, "Skype makes all these devices into phones," he pointed out.
The group video chat feature, meanwhile, "will probably also be popular," Sterling predicted. "More generally, conference calling on Skype is also gaining adoption among businesses because it's free."
'Very Innovative'
Indeed, "Skype is growing in popularity," telecom and wireless analyst Jeff Kagan agreed. "Customers can either pay a higher per-call rate or a lower subscription rate if they make enough calls to cover the cost."
The current expansion into other countries is part of Skype's corporate expansion as a whole, Kagan explained.
"Skype is a very innovative smaller competitor," he added. "Their new features are often popular among a smaller group of their current users."
Whether the new features are "really hot, killer features" is the question, Kagan concluded. "It depends on how well they are priced and marketed and how the word spreads one way or another."
---
*ECT News Network editor's note – May 5, 2010:
Meghan Cross' statements were added after the original publication of this article.