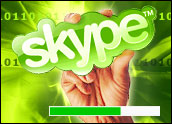 Voice over Internet protocol (VoIP) service provider Skype announced new and expanded calling plans Monday. The new offerings will enable subscribers to make calls to more than one-third of the world's population for a single monthly flat rate, the company said.
The three new subscription plans come with no long-term contracts and provide users with up to 10,000 minutes, or five hours a day, of calling each month to 34 countries. Users are able to make calls to landline phones whenever they choose.
International Operator
A subsidiary of eBay, Skype is a free downloadable application through which users can place phone calls using their Internet connection. They can connect to other Skype-enabled computers, landline phones and mobile phones.
For users in the U.S., the service plan offers unlimited landline and cell phone calls within the country and Canada for US$2.95 a month. Skype's "Unlimited Mexico" plan provides calls to landlines in Mexico City, Monterrey and Guadalajara, with discounted rates applicable for calls to landlines and cell phones in the remainder of Mexico for just over $5.95 a month.
The "Unlimited World" subscription, available for a monthly charge of just over $9.95, provides unlimited calls to landlines in 34 countries around the globe, including Australia, Germany, Japan, Malaysia and the UK. The plan also includes calls to mobile phones in China, Hong Kong and Singapore.
Skype's expanded offerings also include plans for subscribers in Europe, Asia, Brazil and the rest of the world. For those who sign up for a three- or 12-month subscription before June 1, Skype offers a 33 percent discount on the service.
Building Better VoIP in the US
While the Luxembourg-based communications provider boasts some 309 million registered users around the world, it has struggled to make money and increase its adoption in the U.S.
"Skype's decision to align their payment structure with traditional services will make it easier for consumers to think of Skype as a service provider," Rebecca Swensen, an IDC analyst, told the E-Commerce Times.
This, she said, should increase adoption for Skype, especially in the U.S., where the market tends to lag behind Europe and Asia with adoption of new technologies and services.
VoIP solutions like Vonage and other ATA (analog telephony adapter) services are growing at about 20 percent in the U.S., while portal-based services like Skype are growing a bit faster, at 25 percent to 30 percent globally, according to Swensen.
"Adoption will most likely continue with a steady growth rate overall, with some services like Web-based IP communication service like Rebtel, Jajah, Iotum, etc., and mobile IP communications like Truphone, TalkPlus, Fring, etc., growing more strongly in the next two years," she concluded.
Tough Market to Crack
About 6 percent of U.S. consumers have Skype installed on their PCs, and about 2 percent of consumers use Skype to conduct PC-to-PC voice chats on a regular basis, said Doug Williams, a JupiterResearch analyst. Just 1 percent of consumers regularly place calls from their PCs to a land line using any type of "Skype-Out" service from any provider.
Given those number, Williams does not believe changes in Skype's rate plans will have a great affect on adoption in the U.S.
"I doubt the new Skype plans will have much effect on U.S. consumers, because A) Skype's international calling rates were already much lower than traditional international calling rates, so those who placed a lot of international calls may already have been 'Skype-Out' customers; [and] B) the PC-to-PC Skype calling service is still free, and users who utilize the free service may have little incentive to switch to the paid service. Free is still less expensive than any flat-rate calling plan," he told the E-Commerce Times.
In order to improve adoption, increasing the usage of USB (Universal Serial Bus) headsets and webcams could spur use of Skype and similar PC-based VoIP-type services, according to Williams.
"Currently, only 10 percent of consumers own USB headsets, while just 15 percent own webcams. However, consumers with Skype installed on their PCs have USB headset and webcam ownership penetration of 38 percent and 41 percent, respectively, which better positions them for talking advantage of Skype's calling service," he added.