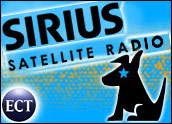 Sirius Satellite Radio further shrunk its net loss in the second quarter, thanks in large part to 561,493 new subscribers and a revenue growth of 51 percent over the same quarter a year ago, the company reported Tuesday.
Revenue reached US$226.4 million, while the number of subscribers rose to 7.1 million, the company said. Sirius's net loss improved by 44 percent over the year-ago period, falling to $134.1 million, or 9 cents per share, from $237.8 million, or 17 cents per share in the second quarter of 2006.
Excluding stock-based compensation, the adjusted net loss for the quarter is $117.1 million, or 8 cents per share, down from $159.6 million, or 11 cents per share, a year ago.
Low Churn Rate
"Sirius, once again, posted solid results," said Mel Karmazin, the company's CEO. "Both revenue and subscriber growth exceeded 50 percent while operating expenses before stock-based compensation and depreciation grew only 6 percent.
"Customer satisfaction remains high, reflected in our low all-in churn rate of 2.1 percent," Karmazin added. "We have added over 1.1 million net new subscribers so far this year, and second quarter results mark the seventh consecutive quarter for leadership in satellite radio net additions and the third consecutive quarter of leadership in gross subscriber additions."
The company captured 62 percent of satellite radio segment share in the second quarter, it said. Included in its base of new subscribers are 431,650 from the OEM (original equipment manufacturer) channel, it added. It expects to reach 8 million subscribers by year's end.
'Backseat TV'
Earlier this year, Sirius announced a deal with Chrysler through which drivers of Chrysler, Jeep and Dodge vehicles can get "Sirius Backseat TV" with digital content for children broadcast into their vehicles.
The company's merger with XM Satellite Radio Holdings, meanwhile, which has drawn the scrutiny of the Federal Communications Commission and the Department of Justice, should be completed by the end of the year, Sirius added.
"Momentum for the pending merger with XM continues to build," said Karmazin. "Support from our customers, suppliers and other groups representing a diverse cross-section of Americans clearly demonstrates the public interest benefits and enhanced competition that will come from the merger.
"We continue to work with the FCC and the DOJ to make the case that the merger offers more choices, including a la carte offerings, and lower prices for subscribers, and we continue to expect that the merger will be completed by year-end," he said.
Sirius's stock increased 17 cents, or 5.7 percent, in Tuesday morning trading.
Sustainable Growth
"The key thing for me was that they demonstrated that the outlook for subscriber growth is not going away," UBS analyst Lucas Binder told the E-Commerce Times.
Sirius had gross subscriber additions of more than 1 million in the quarter, Binder noted, representing an increase of 20 percent over the year-ago period. "This is the first time in a non-fourth quarter that the company added a million subscribers in a quarter," he explained. "That's pretty meaningful from a demand standpoint, and very telling," Binder added.
"The subscriber numbers were better than anticipated, and definitely encouraging," agreed April Horace, an analyst with Janco Partners.
Net additions, meanwhile, were "much better than expected," Binder added, as was customer retention, as revealed in the low churn rates.
High Fixed Costs
Sirius's business model has a high level of fixed costs, Horace told the E-Commerce Times, meaning that it has had to operate at a loss until it can increase its subscriber base to a high enough level to outweigh the costs. "It does have sufficient cash on its balance sheet to get to that point," she added, including $250 million it just recently raised.
"In our view, Sirius will benefit from growth in the OEM segment with its automotive partners," Binder added. "It will continue to keep a lead in the second half."