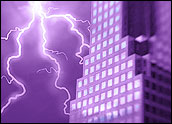 Just one day after Siemens CEO Klaus Kleinfeld announced he would not renew his contract with the company, the German engineering and technology giant admitted Thursday that it is the focus of an expanding, multinational probe over allegations of bribery and corruption.
German prosecutors are investigating the company on suspicion of embezzlement, tax evasion and bribery, and related investigations are being conducted in Liechtenstein, Switzerland, Italy, Greece and other countries, the company said.
In addition, the U.S. Department of Justice is investigating possible criminal violations of U.S. law relating to the allegations, and the Securities and Exchange Commission's (SEC) enforcement division has converted its informal inquiry into these matters into a formal investigation.
Neither Kleinfeld nor former board Chairman Heinrich von Pierer, who has also stepped down, have been accused of any wrongdoing.
Officials at both the SEC and the Justice Department declined to comment.
Strong Financials
The update on the legal troubles came just as the company announced that all of its units are meeting or exceeding their profit targets. For the second quarter of fiscal year 2007, revenue rose 10 percent to US$28.13 billion, and orders increased 9 percent to $32.01 billion. The company also achieved strong earnings, with net income growing 36 percent to $1.71 billion.
"We significantly strengthened our strongest businesses, better aligned the company to take full advantage of global demographic and urbanization trends, and reached or exceeded our margin targets at all groups," Kleinfeld said. "Together these accomplishments are enabling us to outgrow the economy at a higher level of profitability. We look forward to maintaining the operating momentum we have built up in the first half of the fiscal year."
Siemens spans a broad range of industries, including power generation, medical, transportation and wireless communications.
Internal Investigation
In addition to the external probes into the company, Siemens is also conducting its own, internal investigation into a number of business consultant agreements (BCAs) under which payments were made but for which the company has not been able to identify a valid business purpose or a recipient.
"During the first half of fiscal 2007, the company has continued to analyze payments under these and additional BCAs," Siemens said. "An analysis of BCAs and related payments at the other groups will begin. As a result, the company expects a significant increase in the total amount of BCA payments under review."
While Siemens has not yet recorded any of these amounts in its tax assets or liabilities, there are "substantial uncertainties" remaining that could affect future reports, it said.
'Troubling' News
"It's troubling because Siemens is a highly thought-of European technology company," Neil Strother, wireless analyst for Jupiter Research, told the E-Commerce Times.
"From a technology standpoint, this puts them at a disadvantage — until the facts come out and the judgments are made, they may have to struggle to keep credibility with some customers," he explained.
"There's a cloud hanging over Siemens that will have to run its course," Strother concluded. "Until it moves away, there will be some trouble for Siemens."