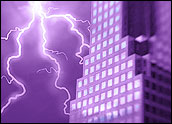 An executive manager and member of the executive board of technology and industrial giant Siemens was ordered to remain in the custody of German law enforcement officials Wednesday after being arrested and charged in connection with an alleged bribery scheme.
Johannes Feldmayer had asked to be "temporarily relieved of his duties" at the Germany-based company and said his duties would be handled by others during that time, suggesting he could return if the issues are resolved, the company stated.
The U.S.-traded shares of Siemens dropped nearly 3 percent in morning trading Wednesday to US$106.08, as investors reacted to the latest escalation of what has been ongoing corruption investigations into the company's practices.
Multiple Investigations
The newest investigation focuses on alleged payments to a German workers union without any services being returned to Siemens, which is a sprawling engineering, industrial, telecommunications and technology conglomerate with 11 separate operating divisions.
Other investigations have focused on more than $500 million worth of payments that investigators are probing for potential ties to bribery schemes. Some shareholder activist groups in Germany have called for the resignation of CEO Klaus Kleinfeld in light of the various scandals and investigations.
Previous investigations have focused largely on Siemen's telecom gear unit, which has won a slew of major contracts in recent years in countries such as Nigeria and Saudi Arabia.
Union Payments Eyed
The latest scandal came to light Tuesday, with the arrest of Feldmayer, who oversaw the company's information technology services division.
On Tuesday, he was taken into custody by prosecutors in Nuremberg. Officials there said he met with a judge overseeing the investigation into possible bribery schemes that helped Siemens land contracts, and was ordered to remain in custody for the time being.
The investigation is currently focusing on possible payments allegedly made to a union, known as AUB, whose president, Wilhelm Schelsky, was arrested last month, according to published reports in Germany. Prosecutors are said to be focusing on whether Siemens made payments to the union without receiving any services in return and whether any such payments may have been part of a larger scheme.
A rival union has accused the AUB of taking payments from Siemens in exchange for not pushing for higher pay rates and other benefits. The rival union, IG Metall, is currently pushing for a 6.5 percent pay boost for the industrial workers it represents in Germany, including many employed by Siemens and its affiliates.
Contained or Systemic?
It would not be surprising if prosecutors succeed in proving that Siemens paid bribes to secure contracts or favorable work rates from unions. Particularly in some emerging economies, such payments are considered commonplace.
For Siemens, the question will likely be how far up the executive ladder investigators can trace the approval of such payments. One fund apparently was designed to appear to be used for consulting payments, but in fact may have been a slush fund from which certain employees made payments to officials making purchasing decisions, according to reports.
Siemens has said that individual employees were likely responsible for any illicit payments, saying that even large payments could have been made without top-level executive approval.
The company has acknowledged its internal controls were insufficient and has pledged to become a model of corporate governance and transparency, a major challenge given its sheer size. It had hired outside legal counsel and auditing firms to revamp its internal purchasing control functions.
Learning From Other Scandals
Siemens can take comfort from the recent experiences of other companies that have had various types of scandals at the boardroom and executive level but saw little or no impact to their business operations along the way.
Despite distractions and public relations embarrassments, companies can withstand scandals as long as they are seen as contained to individuals and not a sign of systemic problems, Gartner analyst Martin Reynolds told the E-Commerce Times.
"The HP scandal demonstrated that a company can continue to execute and win the support of investors and analysts even while dealing with an internal scandal at the highest levels," he said.
"Customers and investors are willing to look past negative publicity. They are much more likely to be concerned with the products and services they're getting than they are to be swayed by the latest headlines," Reynolds concluded.