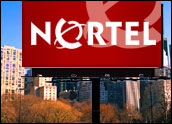 Nortel Networks on Thursday announced that it has discontinued its mobile WiMax joint agreement with Alvarion.
Nortel characterized the move as an effort to refocus its business, better manage its investments and strengthen its broader carrier business to better position itself for competitiveness.
The company filed for bankruptcy protection earlier this month.
WiMaxing Out
The Canada-based Nortel and Alvarion announced their partnership in June 2008. The agreement included the integration of Alvarion's radio access network technology with Nortel's core network solutions, backhaul solutions and global services. It also covered the resale of the Alvarion platform of WiMax access products by Nortel.
The move, naturally, will have the greatest impact on Alvarion, Daryl Schoolar, an Instat analyst, told the E-Commerce Times.
"Nortel was not really a significant player in the market. It laid a lot of the early groundwork but since then has not been winning very many significant contracts. The negative on the market might be what happens to Alvarion. This could have a big negative impact on them," he explained.
WiMax in general, however, continues to have broad support from large backers such as Motorola, Alcatel, Cisco and Clearwire/Sprint.
"This might be somewhat of a challenge for Alvarion, whose name is not as well known as Nortel. But it won't change the relationship between WiMax and [Long Term Evolution, or LTE] because Nortel was not a big WiMax player," said Schoolar.
Just Keep On Rolling
Neither Nortel's decision to back out of WiMax nor the current economic recession should have a deleterious effect on planned WiMax rollouts in 2009, according to Schoolar.
"So far there is not too much indication of deployment delays as a result of the economic downturn. WiMax already had a lot of the financing together to do this. And the attitude is that if you have the funding, you should go ahead and do it because the recession will end eventually," he pointed out.
"If you wait, you might miss the boat, and the time to prepare for the end of the recession is now. There are a lot of variables. Clearwire has not said what their rollout plans will be. That will have a big impact. But we will have to wait until later to get a look at their revised schedule," Schoolar added.
"Nortel leaving the market is not unexpected. Their walking away from WiMax says more about the company than WiMax. They'll be challenged in the LTE environment just as they were with WiMAX because of the issues they are having as a company," he concluded.