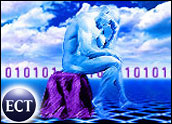 It shouldn't surprise me anymore, but I'm still shocked whenever I run across an e-commerce naysayer.
You know them. These are people who wonder how long it will be until Amazon (Nasdaq: AMZN) folds and who still use words like "fad" to describe business-to-consumer e-commerce.
But even if these doubters are off the wall, smart e-commerce fans should seek them out and listen to their opinions as often as possible.
Educated Guesses
Make no mistake: These aren't people who conjure up images of a South American river when they hear the word Amazon, or who think that the new EToys is the same as the old EToys. These are smart, connected people who have seen the Web and have determined that it's just too soon to buy into the hype.
They're not as numerous as the people who think that e-commerce is here to stay and is poised to change retail forever. But just as for every five economists predicting short-term recovery there is one calling for a double-dip recession, e-commerce doubters must be given their due.
Why? Not because they might be right. They're not. But only by keeping them in the loop, by listening to that nagging little voice, can e-commerce truly be considered a force to be reckoned with.
New and Improved
Many of these dour doubters are newly hatched. And some of them love to hold court, spitting out always-pithy remarks about the foolishness of 1999, when dot-coms dumped truckloads of money into acquiring customers. But were they raising those same questions back then?
Maybe they were, and maybe their voices were drowned out by the sheer noise of e-tail enthusiasm at the height of the boom. But I don't think so. These are people who see an opportunity to espouse a contrarian point of view, but one that seems to have merit in history.
In other words, if hundreds of dot-coms have already flamed out, it's not outrageous or even terribly courageous to predict that more will follow suit, including some of the best-known e-tailers.
Listen Up
Still, the barons of bankruptcy cling to a minority opinion. So, why do they stick by their guns? Although some have different reasons, many seem to think the Amazons of the world will continue to follow in the footsteps of already-dead dot-coms, cutting prices to attract customers and then not doing enough to lock them in for life once theyre in the fold.
That's a message that e-commerce companies should hear, if only so they can offer a firm rebuttal. Amazon might tell the worrywarts that it has worked its margins to a comfortable level, so lower prices can still result in a profitable business.
But negativity doesn't back down easily. To that argument, naysayers might offer a host of reasons why traditional retail is wise to bide its time and let the dot-com craze fade away. Returns are a big theme for the doubting Thomas, as is shipping. Books, movies — sure, they say, but what about bigger items? Fragile items? Expensive items?
Stop Making Sense
Forget it, the crusaders of catastrophe conclude, and sometimes their arguments make perfect sense. In fact, they do more than proclaim their message: They provide a road map of where e-commerce should go and, perhaps more importantly, where it shouldn't bother to venture.
Already, high-end e-tailers are starting to fade and big-ticket merchants that deal in furniture and cars have yet to figure out the magic formula.
The wizards of woe don't have their heads buried in the sand. They know the Internet is an important tool that businesses can use to cut costs and reach out to consumers. But their doubts about the bigger picture are valid.
E-commerce companies should make a recording of those doubts and listen to them every once in a while. Like a motivational tape slipped under a pillow to help someone lose weight, they might start to sink in over time.
In any event, doubters shouldn't be thrown overboard. They may never be won over, but trying to convince them that e-commerce has promise isn't even the point. Just keeping the lines of communication open may prevent their poor-mouth predictions from coming true.
What do you think? Let's talk about it.
---
Note:
The opinions expressed by our columnists are their own and do not necessarily reflect the views of the E-Commerce Times or its management.
---