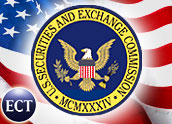 The bad news just keeps on coming for Take 2 Interactive, parent company of Rockstar Games.
The firm revealed Wednesday that following a year-long informal investigation by the Securities and Exchange Commission (SEC) into the handling of certain stock options grants, the company received a Wells call on Aug. 9 from the Staff of the Division of Enforcement at the SEC. The notice indicates that office plans to ask the SEC for the authority to seek a civil monetary penalty against Take 2, and invites the company to take steps to fend off that action.
Take 2 said it is cooperating with the SEC and expects to reach a settlement agreement rather than pursue a resolution through litigation, according to papers filed with the SEC on Wednesday.
Perp Walk
The game developer has already seen fallout from the SEC's investigation, with several top executives leaving the company.
Among them is its founder, Ryan Brant, who had held several top-level positions in the company. He resigned in October 2006. In February he plead guilty to first-degree felony criminal charges of falsifying business records in order to backdate stock options between April 1997 and August 2003. Brant received five years probation and paid nearly US$7.3 million in restitution, $6.3 million to the SEC to settle civil charges filed against him, and another $1 million to local authorities and the state of New York.
In March, the company's investors at their annual meeting kicked a slew of top executives out the door, including Paul Eibeler, former CEO, and its entire board of directors. Investors were likely fed up with the stock options backdating scandal, an earlier accounting investigation settled with the SEC in 2003 and controversies relating to the games "Grand Theft Auto: San Andreas" and "Bully."
The bloodletting continued in April when Karl Winters, Take 2's chief financial officer, resigned.
Still Kicking
In the year since the investigation was confirmed, Take 2's stock price has risen to a high of $24.80 from a low of $11.56 in September, only to drop again to a $12.06 low Thursday. Take 2, however, continues to weather the storm of bad news, and its investors remain intrepid, Michael Pachter, a Wedbush Morgan analyst, told the E-Commerce Times.
"The stock option investigation is old news," Pachter stated, "and is fully reflected in the stock price.
"Three former executives — a former CEO, former general counsel and former controller — have all pleaded guilty to backdating, and the former CEO paid back all of his ill-gotten gains. The charges will not be contested, a fine will be forthcoming, and the only uncertainty is over the amount of the fine," he continued.
The company, however, is not in the best position financially as it anticipates losses for the last two quarters of 2007, according to Pachter, who expects Take 2's losses to continue into next year.
"They are spending more than they are taking in, and the delay of 'GTA' will likely cause them to have to draw on their $100 million credit line," he explained. "If they fail to meet covenants under that credit line — $30 million of domestic liquidity — the line could be canceled.
"Any extra pressure on their cash position for a sizeable fine could cause them to have to raise equity," he continued. "Nobody knows how big the fine will be, but based upon penalties imposed upon Brocade and Mercury Interactive, it could be between $10 (million) and $20 million."
However, Pachter added, "investors in Take 2 are a tough bunch and nothing seems to faze them."
Tough Summer
Take 2's troubled summer began in June after the game "Manhunt 2" received an Adults Only rating from the Entertainment Software Rating Board, causing most major U.S. retailers to banish copies from their shelves and leading console makers to shun the game. Meanwhile, both the British Board of Film Classification and Ireland's Irish Film Censor's Office refused to certify the game, banning sales of the games in both countries.
Then, just two weeks ago, the company announced in its revised financial statement that the highly anticipated release of "Grand Theft Auto IV" for the Xbox 360 and PlayStation 3, originally scheduled for October 2007, would be delayed at least six months. The company now plans to have the game on store shelves some time during the second quarter of 2008.