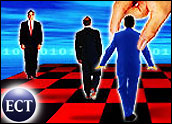 Marvell Technology Group announced several changes to its leadership after an internal investigation found that stock options grants were routinely backdated, the company announced Monday. The firm indicated that more changes could be on the way.
Marvell's CFO George Hervey has resigned, the company stated. Meanwhile, cofounder Weili Dai will give up her titles of executive vice president, chief operating officer and director, though she will remain with the company.
The Santa Clara, Calif.-based chipmaker's board of directors recommended that Chairman and CEO Sehat Sutardja give up his chairman's role, enabling a more clear divide between executive management and the board.
'Numerous Instances' of Backdating
Sutardja has already agreed to nullify some two million stock options following the probe, while Dai will bypass the right to purchase 1.5 million shares.
The board's special investigative committee found that "there were numerous instances in which grant dates were chosen with the benefit of hindsight as to the price of the company's stock, so as to provide exercise prices lower than the fair market value on the actual measurement date," the company stated.
"In addition, the special committee found a systemic failure of internal controls with respect to the stock option process and related matters, as well as a failure by certain members of current and former management to exercise sufficient oversight," it added.
Shares of Marvell were up almost 2 percent on the news to US$17.92.
Where the Blame Falls
Sutardja was directly involved in only a few of the disputed stock options grants, the company stated. Marvell seemed to focus the lion's share of the blame on the CFO and its former general counsel, Matthew Gloss, who was recently fired.
Marvell will make several internal changes as well, the firm said, aimed at making sure the backdating can't happen again, including changing the way it grants stock and options, with grants made on a prearrangedschedule. It will also create a position of vice president of compliance, who will report directly to the board's audit committee.
Marvell also will restate prior earnings as a result of the probe, with non-cash charges totaling up to $350 million for the 2000 to 2006 time frame, the company stated.
Calling Off the Dogs?
Finalizing the internal probe doesn't necessarily end Marvell's options troubles. The Securities and Exchange Commission (SEC) has an investigation under way, and Marvell could miss a deadline to file updated reports that would allow it to keep its listing on the Nasdaq exchange, the company stated.
Marvel makes specialty chips found in a range of settings, from personal computers and servers to mobile gadgets.
Last June, the company bought its mobile chip line from Intel for $600 million, part of a larger divestiture by the chip giant.
Like many technology companies caught up in options scandals, Marvell has been able to prevent any damage to its core business, University of Iowa business professor Erik Lie told the E-Commerce Times.
While investigators are not likely to back off because a company takes strong action on its own, the SEC and prosecutors have not shown a desire to aggressively tackle multiple options cases, he said.
"It's more likely that regulators will make examples of some high-profile companies and send a message that going forward, better controls are needed," Lie noted.
Apple may be one of those examples, with the SEC last week filing suit against a former counsel, one of the most high-profile cases to be brought to date.