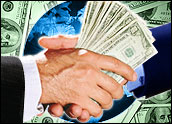 In a move that solidifies its market position and also eliminates a significant competitor in the hard disc drive space, Seagate Technology said it would buy Maxtor for US$1.9 billion.
The all-stock deal brings together the number one and number four makers of hard disc drives in the world and will instantly add to Seagate's ability to churn out discs by expanding its manufacturing capabilities in the U.S. and elsewhere.
Many Benefits
The purchase will add to Seagate's earnings after a year, with as much as a 10 to 20 percent bump expected, though some "revenue attrition" is likely, the company said. Though no layoffs or plant closings have been announced yet, Seagate said it expects to be able to save a combined $300 million a year going forward.
"Seagate is excited about the opportunity to achieve greater scale, reduce supply chain costs, and leverage combined R&D efforts across a broader product set," said Seagate CEO Bill Watkins.
The deal still needs shareholder and regulatory approvals, but could close as soon as the middle of 2006, the companies said.
The news — and the positive reaction from analysts — will soothe many Seagate investors who were stung by the decision of Apple to discontinue the hard-drive based Apple iPod mini in favor of flash-based players.
Moving the Market
Hard drives are used in everything from personal computers and small electronic devices to enterprise data storage systems, and they comprise a $23 billion market annually worldwide.
With Maxtor in the fold, Seagate will control an estimated 41 percent share of the market, more than double that of number two disc maker Western Digital, according to data from IDC.
Gartner/Dataquest said that the two firms will combine to be even more of a force in the enterprise space, with 66 percent of the total market, more than triple that of Fujitsu at 21.4 percent for the first 9 months of 2005.
Those numbers might raise some antitrust concerns from regulators in the U.S. and HGST, Samsung, Toshiba and Fujitsu. That may turn attention to how the merger will affect cost.
While some analysts believe Seagate may be able to boost its margins by charging more for certain products, the company said the scale and cost savings will enable it to keep end-user prices low going forward.
Seagate may also be in a position to argue that consolidation in the hard drive industry will lead to stabilization of prices and, importantly, of supply, said Raymond James analyst Ashok Kumar.
Hard drives will need to be affordable and plentiful in order to compete in the consumer electronics space, Kumar said, in particular with flash memory — which Apple is embracing for its new, smaller iPod nano, and which is gaining traction in other small devices, such as high-end smartphones.
Buy and Sell
Maxtor itself had grown through acquisition, making a purchase of Quantum's disk drive business in 2001 for $1.3 billion.
The market share gains envisioned in that purchase did not materialize, though. More recently, the company has been on a mission to cut costs and stay profitable, going through a number of major executive shakeups that resulted in CEO C.S. Park, the former head honcho at Quantum, taking the helm. Park will take a seat on Seagate's board after the merger is completed.
While the Maxtor buy is aimed at the business and enterprise markets, Seagate has also shown an interest in having its technology play a role in the digital home movement.
In September, Seagate paid an undisclosed sum to acquire Mirra, which makes products used to back up personal computers and other devices networked in the home. And today, it announced that the former CEO of Viacom, HBO and Universal Studios, Frank J. Biondi Jr., will take a seat on its board of directors.