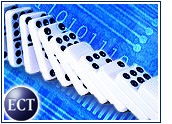 Scient (Nasdaq: SCNT) fell 50 U.S. cents to $1 in morning trading Thursday, after the Internet consulting company lowered expectations for the quarter ended in March and said it will cut at least 675 jobs.
"The economic environment remains extremely challenging," chairman and chief executive officer Bob Howe said. "Our large enterprise clients continue to delay [information technology] spending initiatives, which has resulted in further deterioration in our pipeline."
Scient said that it expects a pro forma loss of about 39 cents per share for the fourth quarter ended March 31st, with revenue of about $27 million. Analysts were expecting a loss of 12 cents.
Results for the last quarter will include a $60 million to $65 million portion of an overall $95 million to $110 million restructuring charge to cover surplus assets and severance costs.
For the quarter ending in June, results will include the remaining $35 million to $45 million of charges for the restructuring, which is designed to save about $175 million a year.
Scient said it will "significantly downsize and modify its geographic footprint," when it moves its corporate headquarters to New York from San Francisco, California.
The company will also close its offices in Los Angeles and New Jersey, and make its San Francisco; Boston, Massachusetts; and Chicago, Illinois facilities into smaller sales offices. Other offices may be closed or made smaller as well, the company said.
The company said it will cut 675 positions in the quarter ending in June and depending on business conditions, as many as 175 more jobs in coming months.
"At this juncture, we believe the weakness in IT spending trends may extend well beyond the next quarter or two, further limiting our visibility, and we may experience negative revenue growth in the next several quarters if such trends continue," Howe said.
Scient said it had about $160 million in cash on hand at the end of March and expects to have about $100 million at the end of June.