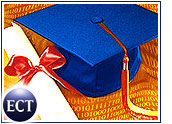 Given Stanford University's proximity to the epicenter of the digital economy, Silicon Valley, it is no surprise that the school would be among the first universities to embrace e-commerce business education.
In early 2000, Stanford launched its Center for Electronic Business and Commerce with US$20 million in funding, including backing from eBay, Charles Schwab and General Atlantic venture partners.
Just over a year later, enrollment in Internet-related courses is down both at the graduate and undergraduate level, with similar results appearing at dozens of colleges across the country that scrambled to assemble e-commerce curricula amid the sector's boom times.
However, despite interest in the subject dropping as fast as the Nasdaq and word that some universities are already planning to abandon their newly formed digital business divisions, few people are willing to write off e-commerce education just yet.
In fact, in a campus trend that reflects what is happening in the business world, many colleges plan to absorb the e-commerce courses into overall business education programs, showing that e-commerce has not gone away, but rather has become part of the whole.
Given how quickly the target is moving, though, is it practical to teach e-commerce at any level? Will lessons learned from the successful and failed companies of the past year be applicable in one year — let alone five?
Strong Endorsement
Instead of backing away from e-commerce education, trade groups such as the eMarketing Association are pushing for more e-commerce immersion, even at the high school level. For example, the eMarketing Association recently announced a high-school level certification course for students in Utah.
Robert Fleming, president and chief executive officer of the Redondo Beach, California-based association, told the E-Commerce Times that constant change is an essential part of marketing and business in general, and that some lessons transcend peaks and valleys of business cycles.
"The marketing community has learned a lot in the past couple of years — at a cost of billons," Fleming said. "It's important to instill this knowledge into our e-commerce classes as the field evolves. It's kind of shocking how little there is in the educational system across the country on this subject."
Fleming and other supporters of e-commerce education at all levels say experience in the field will provide a leg up in many business sectors in the future, not just pure-play e-commerce.
No Whoa at Wharton
The Wharton School of Business was also among those to embrace e-commerce education in 2000, even forging a partnership with incubator Internet Capital Group (ICG). The school is not ready to back off its program just yet, according to Wharton dean Pat Harker.
In fact, Harker believes that hard times require a redoubling of effort. The school recently welcomed two dozen mid-career executives as one-year e-commerce fellows.
"Current lessons are more critical than ever to safely navigate through the turbulent Internet economy," Harker said. "The traditional confines of current executive education don't always fulfill their needs."
Help Wanted?
Pragmatically, the bottom line for any education remains the job at the end of the rainbow. With the dot-com economy having cooled, expectations for new graduates have also waned. But e-commerce education proponents say that as more traditional companies embrace e-commerce, jobs will be plentiful.
"I don't think that anybody with an e-marketing or e-commerce background is going to have problems finding employment," said Fleming.
"Marketing and e-commerce companies did some pretty stupid things over the last two years, like buying products and selling them on the Internet for less than they paid for them," he added. "We had a strong reality check here. The smart marketers are getting up to speed on what we learned to make it work in the future."