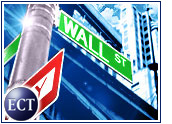 SBC Communications (NYSE: SBC) fell US$2.45 to$43.05 in morning trading Friday, after the local-telephone service providersaid that results for the first quarter will be below previous expectations because of costs associated with the company's expansion.
SBC, based in Austin, Texas, said it still expects full-year earnings before"one-time items" to be 11 to 14 percent ahead of year-earlier levels, with 8to 9 percent revenue growth.
For the first quarter ending in March, however, earnings per share willtotal 50 to 53 cents, below the 59 cents previously expected by analysts.
Earnings in the second, third and fourth quarters should be above 60 centsper share, resulting in "strong, double-digit earnings growth" for the yearas a whole, the company said.
SBC said it will boost results later in the year through "consistent revenuegrowth, a stable cost structure brought about by disciplined expensemanagement across its operations, and, after the first quarter this year,more favorable quarterly expense comparisons with 2000 levels, which wereimpacted by spending to ramp up new business units and new initiatives."
Expenses have been high because of the acquisition last year of SterlingCommerce and because of expenses associated with the introduction of digitalsubscriber line (DSL) service, national expansion, and upgrades tolong-distance, wireless and Ameritech services, SBC said.
"SBC has begun 2001 with good momentum in the marketplace," said chairmanand chief executive officer Edward E. Whitacre, Jr. "Our core business andgrowth assets are solid, we have financial strength and flexibility, and weare intensely focused on operations and winning with customers. Thesefactors add to our confidence that SBC is on track to achieve strongearnings growth in 2001."