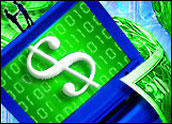 E-business software firm SAP (NYSE: SAP) announced Friday that U.S. antitrust authorities have approved its increased investment in Commerce One (Nasdaq: CMRC), boosting SAP's total stake in the e-marketplace provider to more than 20 percent.
"With its seat on Commerce One's board, SAP will be one of the bigger influencers of Commerce One," Forrester analyst Jennifer Chew told the E-Commerce Times.
Chew added that because SAP will be able to enhance the company's direct materials offerings, Commerce One "now has a compelling direct materials procurement story to tell."
Walldorf, Germany-based SAP, which already owned 4 percent of Pleasanton, California-based Commerce One, originally announced its intention to make the additional investment in June.
SAP stated that it would pay up to US$206 million for its increased stake in Commerce One. By shouldering its larger share of Commerce One, SAP expected a $85 million reduction in its first-half income due to losses at the struggling e-marketplace firm.
Safety Net
In light of Commerce One's recent troubles in the sputtering economy, SAP's additional investment bodes well for Commerce One's future, said Chew.
"SAP won't let [Commerce One] die," Chew said. "If Commerce One's shares get any cheaper, SAP will buy the company."
Commerce One's ties with SAP also give it a leg up on arch e-procurement rival Ariba (Nasdaq: ARBA), which Chew said "should be nervous, with no supply chain partnerand no giant [like SAP] backing it up.
Chew noted that other players in the e-procurement space, such as Clarus and i2 Technologies, are also clawing their way into direct materials procurement through deals with Manugistics and RightWorks, respectively.
Missing Link
According to Chew, SAP brings crucial supply chain knowledge and processes to Commerce One's e-procurement offerings.
Chew cited three key components of business-to-business (B2B) procurement that have to come together: strategic sourcing, electronic procurement and transaction processes, and supply chain planning.
According to Chew, Commerce One has aimed its efforts at strategic sourcing and electronic procurement, primarily in the area of indirect materials procurement (non-strategic materials that are not used in manufacturers' end products).
The demand for direct materials (which involve strategic consideration of quality and delivery time) comes from supply chain planning processes, according to Chew. Since supply chain planning is SAP's strength, said Chew, the company brings the third important procurement component to Commerce One's offering.
Team Building
"Commerce One provides e-commerce infrastructure that enable companies to connect with customers, service providers and trading partners," SAP co-chairman, chief executive officer and co-founder Hasso Plattner said. "Our increased investment in Commerce Onereflects our commitment to a continued partnership."
SAP and Commerce One jointly developed the e-commerce products MarketSet and Enterprise Buyer and started offering them in September 2000. MarketSet is geared towards public and private online exchanges, and Enterprise Buyer is an internal corporatee-procurement solution.
Commerce One and SAP shares each gained more than 5 percent Friday. Commerce One closed at $3.31, up 18 cents, while SAP wrapped up the week at $36.89, up $1.77.