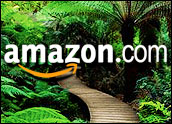 Amazon reportedly is adding an important new tributary to its river of products this week: a smartphone line. The company has a media event scheduled for Wednesday and expectations are high that it's about to reveal its first mobile device.
"Amazon has already seen some success in the tablet space (with Fire HD and HDX) as well as the home entertainment space (with Fire TV)," Todd Day, senior mobile and wireless industry analyst at Frost & Sullivan, told the E-Commerce Times. "The smartphone is the most mobile device, which makes it the most-used device. The next logical step for Amazon is to provide a smartphone that will help enable access to Amazon's content."
Hardware Experience
Amazon has a certain degree of experience in the hardware market, first with its line of Kindle e-readers. It later found a degree of success with its Kindle Fire tablets. More recently, it launched the Fire TV streaming video box. Now it appears ready to expand the Kindle Fire product line.
The company long has been rumored to be working on a smartphone. It has a history of experimenting with new products and services, from creating its own hardware to planning future deliveries by drone.
Innovation is at the heart of Amazon, and early indications are that its first smartphone will include a 3D display. A teaser video showed a number of Amazon customers appearing to be impressed by the visual appearance of a product they were holding in their hands. However, skeptics seem to think that the inclusion of 3D is simply a gimmick.
"3D wouldn't really be anything more that a marketing tool. While many customers aren't necessarily looking for 3D, the fact that it is a 'better' device with 'more' features will help as a selling point." Frost's Day said.
'Lasting Quality'
"This is not the first 3D phone we've seen. HTC released one; so did LG. Since then, we haven't seen a 3D phone on the market. 3D as a whole, on devices, hasn't really taken off. As a topic, as a feature, it just doesn't have that kind of lasting quality," Ramon Llamas, mobile phones research manager at IDC, told the E-Commerce Times.
"The only thing that really makes sense to me is that they could tie it into shopping," he continued.
"Amazon is nothing if not one of the greatest online retailers. Shopping on a smartphone is difficult: You don't have a lot of real estate. You don't have a lot of space, but if you can show people almost in 3D what you can do with this, that would be pretty neat. But I have to rein my enthusiasm back because that's a lot of content you have to put through the 3D machine in order to offer it," Llamas pointed out.
"They've shown through history that they typically sell these devices at cost and benefit from the back end, from selling goods and services," Wayne Lam, senior telecom electronics analyst at IHS, told the E-Commerce Times.
"Do they need to be really competitive? Do they need to sell in volumes that Apple is selling in?" he asked. "No, but they need to be compelling to stand out from the crowd. I think therein lies the need for them to differentiate the user experience. I think there's a lot of interesting tie-ins they can do with 3D and augmented reality in the engagement and purchasing cycle, but it's hard to say how they'll sustain the consumer's interest aside from this 3D interface. There has to be more to keep the consumer there."
Digital Goods Mentality
Amazon is stepping into a market largely dominated by two players: Apple and Samsung. Yet it might be much more interested in affording consumers an additional way to consume content offered through the company's digital goods storefront and another window for customers to browse Amazon's store.
It's a tactic that has served the company well on Kindle and Kindle Fire, while Amazon Prime likely offers extra value proposition through premium streaming video content, including a bevy of hit HBO shows recently made available, including The Wire and Six Feet Under.
"Amazon is a different beast from a pure-play hardware manufacturers," IHS' Lam said. "They've shown throughout their history that all their hardware endeavors have been purposeful in inducing sales of their core business, which is online retail, selling content and goods."
While it will difficult for Amazon to target the major market players at first, it might have designs on overtaking the likes of BlackBerry and Windows Phone.
"It will likely not affect BlackBerry, as they have already fallen out of the picture," Frost's Day suggested. "It could cause a slight problem for Microsoft if another player is in the picture. However, Microsoft's strategy around Windows is looking to focus on integration of PC, smartphones and tablet technologies. As a result, Microsoft could possibly be the least affected by an Amazon smartphone."
Android Poser
One key question is whether Amazon will continue its Kindle Fire strategy of running a forked version of the Android operating system or strike out on its own.
"I think it'll probably strike out on its own," IDC's Llamas said. "It affords Amazon two things: differentiation from a huge sea of Android smartphones; and … the differentiation that it brings to the table because the big thing for Amazon, the core value proposition of this phone, is going to be shopping. [With] the number of adjustments and tweaks and the special sauce that they have to add on top, it'll probably serve them best by not being yet another Android phone."
For Amazon to truly compete in the smartphone space, it may have to compete with the company's main weapon: price. It has a rich history of selling its devices at cost to get consumers invested in the ecosystem before attempting to generate revenue through sales of other goods such as e-books and other digital content.
"Amazon will need to create a device that is comparable to the iPhone and Galaxy products but at a lower price point," Day said.
High Stakes
"The stakes are fairly high," said Rich Karpinski, senior analyst at the Yankee Group. However, "the odds of it succeeding in the smartphone business are not high. It's brutally competitive, and new entrants have a tough road ahead of them.
"Facebook, in particular, has shown interest in phones, has a great brand and huge user base, and has failed. Amazon, of course, has done very well with tablets — but phones are a different story," Karpinski told the E-Commerce Times.
"What I am most anxious to find out is how much Wall Street will allow Amazon to invest in losing money in the smartphone business in the expectation of making it up in other areas," said Carl Howe, vice president of research and data sciences at the Yankee Group.
"Only two major manufacturers today — Apple and Samsung — make any money from selling smartphones," he told the E-Commerce Times. "What I think has surprised most analysts is that no other firm has gained share simply by undercutting those two giants, simply because they don't have the deep pockets created by making profits in that industry. Even Microsoft, with all its financial resources, hasn't really made a dent in the dominance of those firms."