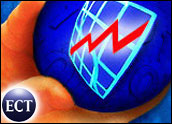 Digital River (Nasdaq: DRIV) rose 1.88 to 6 Thursday after the e-commerceservices company said fourth-quarter results will be better than previouslythought, and that a profit before expenses is expected in the fourthquarter of next year.
Digital River said its software and digital commerce services division movedinto the black, before depreciation and amortization expenses, in the fourthquarter, and it expects the company as a whole to do the same in the fourthquarter of next year.
Chief executive officer Joel Ronning said the division's performancerepresents a "milestone" for the company. "By reaching this important goal,we've validated the commerce service provider model," he said.
Digital River said it will beat its previous prediction of US$9.5 million to$9.9 million in fourth-quarter revenue and a 21 cent per-share loss beforegoodwill amortization.
"Fourth-quarter financial performance shows solid growth from third-quarterlevels," said chief financial officer Bob Strawman. "The fourth quarter wasa strong period for us due to the addition of new clients and the expansionof services provided to existing clients in both our software and e-businessservices divisions. We are seeing strong momentum as we move into 2001."
Digital River also said its president, Perry Steiner, will leave at the endof February to return to private equity investing. Steiner, who will joinArlington Capital Partners in Washington, D.C., will continue as a member ofthe board of Minneapolis, Minnesota-based Digital River.
Digital River plans to report fourth-quarter results on January 23rd.