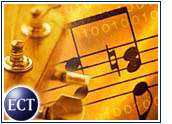 With an eye toward improving its ability to monitor online music downloads, the Recording Industry Association of America (RIAA) announced Thursday that it is working with other industry groups to develop a standardized system for identifying digital files of songs.
The new system would create the digital music equivalent of bar codes currently found on goods from groceries to CDs. According to the RIAA, the system will build on existing technology and incorporate features that support "the range of sale, licensing, and tracking activities that will be vital in the future of online music commerce."
"The record industry worldwide needs an infrastructure that will facilitate new digital delivery systems for music systems," said Cary Sherman, senior executive vice president and general counsel of RIAA. "An effective identification system for digital files that is capable of specifying each unique sound recording, in all its forms, is a key element of this infrastructure."
The RIAA will be working with the IFPI, an international recording industry trade organization, and the Recording Industry Association of Japan (RIAJ) on the project. The project will be managed by Rightscom, a UK-based firm specializing in the design and development of identification systems and information management.
Compatible with Label Formats
Although the RIAA says the new identification scheme will "facilitate and accelerate the growth of digital delivery of music on the Internet," it is clearly intended to ensure that digital downloads flow through approved channels.
The digital downloading and sharing of music files has been at the heart of ferocious legal battles between the recording industry and such sites as Napster and MP3.com, which allow users to download or share music files without paying for them.
To avoid being cut out of profits from digital downloads, the five major labels — BMG, Universal Music Group (UMG), Sony, EMI, and Warner Music — have developed individual protected digital download formats and are selling music via their own sites or through a network of partner sites. The RIAA hopes to build an identification system that is compatible with all of the labels' digital download formats.
The new identification system will build on the International Standard Recording Code (ISRC) that is currently embedded into CDs and includes details about the manufacturer of the CD, the country where the copyright resides, and other information.
Tracking Songs
The new system will not allow labels to determine who is downloading what music, but the RIAA intends for it to be an expandable system that will allow for different coding for different types of downloads. For instance, purchased digital downloads would be coded differently than music downloaded for a trial period or subscription-based downloads.
The system could also be used to determine if digital files meant to be sold are being freely traded through services such as Napster.
Internet Licensing Pact
On Tuesday, the RIAA and the National Music Publishers' Association (NMPA) said that they had agreed on procedures for licensing digitally distributed musical compositions and songs.
The procedures, to be implemented as transactions between RIAA member labels and NMPA subsidiary the Harry Fox Agency, are designed to streamline the licensing procedure for digital distribution. The RIAA said the new procedures "will substantially reduce the time and effort required to clear music publishing rights for the electronic delivery of sound recordings to consumers."