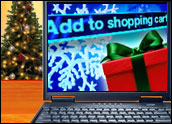 Online and in stores, retailers sought an extra boost in the days after Christmas to help galvanize what's being described as a mixed holiday shopping season so far.
They trotted out their usual array of gimmicks designed to get customers back into the buying mood on Monday, hoping that gift returns and gift card redemptions would generate another burst of sales. Some retailers even used the holiday to change over their merchandise, giving after-Christmas shoppers the first looks at spring fashions.
E-tailers joined the fray, with Buy.com and Overstock.com extending free-shipping offers through the end of December in a bid to turn more browsers into buyers.
Amazon Sets New Record
There may be less urgency for online stores than for those in the brick-and-mortar world, since Web sales appear to have surged ahead by as much as 15 percent. Some overseas markets were expected to grow even faster, with early estimates putting the UK's online sales growth at 50 percent.
In fact, Amazon.com said it had a record-setting holiday season — though it did not release specific revenue figures — as hot electronic items, such as the iPod, drove sales.Shoppers bought more than 108 million items from Nov. 1 to Dec. 25 at Amazon sites in the U.S., Britain, France, Germany, Japan and Canada, the company reported.
Meanwhile, in the U.S., overall retail has been lagging — growing by 3 percent or less, with most early estimates using such terms as "respectable" or "steady," rather than "blockbuster."
"Online sales are poised to well outperform the growth in retail overall as more shoppers turn to the Web for convenience and values," Nielsen//NetRatings analyst Heather Dougherty told the E-Commerce Times.
Armed With Cards
One force in the post-holiday shopping spree — one expected to provide a boost to retailers well into 2006 — is the increased use of gift cards.
The National Retail Federation estimates that consumers will spend US$18.48 billion on gift cards this holiday season, up 6.6 percent from a year ago. That represents nearly 16 percent of total retail sales.
The cards, which are often bought online, are not counted as revenue by a retailer until they are redeemed, helping to delay some of the impact of the shopping season. The International Council of Shopping Centers expects 20 percent of gift card holders will use their cards this week.
Sharp rises in sales of apparel and luxury items — Amazon reported that it sold a $90,000 diamond through its site — are helping to keep online sales growing at a double-digit rate even as the industry matures and some analysts predict an inevitable slowdown.
The week after Christmas often holds more promise for traditional retailers than for online stores, which typically have relatively complicated and time-consuming return processes. Also, shoppers returning unwanted gifts or redeeming gift cards in stores often spend additional money at the same time.
Looking Ahead
Not all online retailers enjoyed the same robust performance, though, and free shipping and other promotions will cost some profitability. Overstock.com, which had hoped to finish 2005 at break-even for the first time in its history, said discounts and other offers will push that milestone back to 2006, though it still expects to be profitable or to break even for the fourth quarter.
Overstock expects to post revenue growth of at least 60 percent for the year.
"We've had a nice holiday season — just not as nice a season as we've had in the past or as I'd hoped for," said CEO Patrick Byrne. Referring to an aggressive TV-ad campaign, he added, "We spent a few dollars more than we had hoped, but in my experience, over time, those dollars will pay large dividends."
Some online retailers may have a slow start in 2006 as economic conditions, including high gasoline and heating costs, slow growth — and as e-commerce enters a maturing phase after 10 years of dramatic gains, said Forrester analyst Carrie Johnson.
"The past 10 years saw online retail evolve from a fledgling industry to a mature, mainstream and multichannel one," she said. "The second phase of e-commerce will require retailers to innovate and invest in technologies that optimize the connection between online and offline activity for the purpose of sustaining and increasing online retail growth."