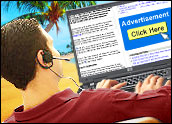 Internet market researcher eMarketer has drastically lowered its estimates on how much businesses will spend on online video advertising in the near future.
The New York City-based firm expects spending on online video ads to reach US$505 million by the end of this year, down from the $1.35 billion eMarketer predicted earlier this year.
eMarketer also sharply reduced projections for future spending on online video ads from earlier estimates of $4.3 billion by 2011 to $1.9 billion by 2011.
Not Surprising
"It doesn't come as a surprise," Sid Parakh, an equity analyst with McAdams Wright Ragen who covers Microsoft, told the E-Commerce Times. "Microsoft talked about some weakness in their online ad business during its last quarterly conference call. Auto companies and financial institutions like home lenders and insurers just aren't advertising as much."
The reduction in expected spending on online video ads will have minimal impact on Microsoft's advertising segment, Parakh said.
"Microsoft's focus is still on search advertising," he said. "I don't think it's a big deal for them. They're seeing weakness in their online ad business based on their own issues. They're trying to compete with Google, and the distractions related to the Yahoo acquisition that didn't go through don't help."
Consumers Tune Out
Part of the problem with online video ads is that users often simply stop watching video clips at the first hint of an ad.
"That is what advertisers don't want to happen because it kills traffic," Parakh said. "If users keep tuning out, online video ads become less attractive as an advertising format."
New Standards
Earlier this year, the Interactive Advertising Bureau updated its guidelines for the creation and deployment of online video ads.
"Digital video continues to be the focus of intense interest from both marketers and agencies," Jeremy Fain, vice president of industry services at the IAB, told the E-Commerce Times. "The work that the IAB's Digital Video Committee has completed over the past year and its ongoing work is paving the way for continued growth by making it easier than ever for marketers to buy digital video across a mass audience."
Some of the IAB's recommendations include the following:
The establishment of a common set of creative ad submission guidelines;
More efficient development of ads and online video players through the establishment of standards for click functionality and ad duration definitions;
Establishment of minimum common ad sizes for overlay and companion ads to make buying digital video ads easier;
Establishment of best practice recommendations for creative development and player environments to gain a better understanding of how consumers interact with online video ads.