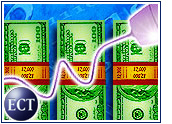 Driven by convenience and efficiency, e-commerce spending most likely topped US$74 billion in 2002, a 39 percent jump from 2001, according to Web traffic measurement firm comScore Media Metrix.
The research firm's preliminary findings, which exclude spending at auction sites, are based on survey data collected in the fall, but actual data collected through December 20th indicates the $74 billion target will be reached. According to comScore, online retailers fared well this holiday season, despite a sluggish economy and weak holiday spending.
The research firm pointed to an increase in the number of new online buyers,as well as greater spending among more experienced buyers, as the two maindrivers of e-commerce growth in 2002.
Figures Echoed
Meanwhile, Forrester senior retail analyst Carrie Johnson said that although figures arenot yet finalized, the research firm has forecast that 2002 e-commerce sales will total nearly $80 billion — a 54 percent increase over the $52 billion spent in 2001.
"It blew away our expectations," Johnson told the E-Commerce Times. "We hadforecasted a little bit lower, just to be conservative, because of the economy.But the strong Q4 and Q1 helped bring up sales higher than most expected."
Johnson said strong sales in the first quarter of 2002 were driven by the nearly 2million new online shoppers who made purchases for the first time during the 2001 holiday season, or who made charitable contributions online after September 11th.
Holiday Season Fares Well
E-tailers also benefited from a solid holiday spending season, according toJohnson, who said Forrester expects sales will prove to have totaled $9.5 million to $10 million in the United States between Thanksgiving and Christmas — up to a 20 percent increase over 2001 levels. For all of November and December, Johnson added, a 30 percentincrease over 2001 is expected.
Free shipping offers by Amazon.com and other e-tailers enticed would-be shoppers this year, said Johnson, and may have saved online sellers fromsuffering the same fate as brick-and-mortar stores.
"With those free shipping promotions, retailers got consumers to shop earlier in November than they normally would have," said Johnson.
Consumers Seek Time Savers
Time savings and bargain hunting topped consumers' reasons for going online to shop, according to the comScore report.
Sixty-four percent of surveyed consumers cited a desire to save time as the primary reason they turned to the Net to shop, while 53 percent said shopping online was more convenient. And 61 percent said they go online to make purchases because they can easily compare prices and find the best bargains.
"The short holiday season has put a lot of pressure on people in terms of timefor shopping, and they're turning to the Internet as a means of buying thingsquickly," Giga Information Group vice president of electronic commercestrategies Andrew Bartels told the E-Commerce Times.