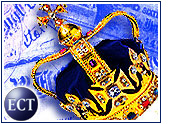 Affluent Americans make up the fastest-growing online segment, with the number of online households earning more than US$100,000 annually rising more than 50 percent in the past year, according to a report from Nielsen//NetRatings.
At the other extreme, the number of online households with incomes of less than $25,000 grew by just 2 percent over the same time period.
On the Job
Nielsen//NetRatings said much of the growth is coming from executives who are being exposed to the Web at work more often as even Internet-resistant old-economy companies come to realize its value in daily business.
"The numbers surprised us a bit at first," NetRatings director and chief analyst Lisa Strand told the E-Commerce Times. "What we had been seeing is a rise in the number of less affluent households." But the slumping economy may be reducing lower-income households' financial ability to gain access at home. "More people may be back to the wait-and-see approach before making that investment," she said.
Strand added that the shift came mostly at work, where executives who initially hesitated to get online are now doing so in large numbers.
Sought-After Shoppers
Forrester Research analyst Ekaterina Walsh pointed out that wealthy Web surfers are the most sought-after online population, since they are more likely to use the Internet to make financial decisions and to buy big-ticket items. In addition, they tend to spend more online than their less wealthy counterparts.
"If they're treated right, affluent customers will become loyal and, therefore, even more valuable to a Web site or online marketer," Walsh told the E-Commerce Times.
And although most new users experience a learning curve before they take full advantage of the Internet, Strand said, new high-income users may be somewhat different, since they may already have some technology experience. "There may still be a little curve, but it will be probably be less pronounced than among the early adopters," she said. "They will probably be shopping and finding the information they want faster."
Money Talks
NetRatings said its data shows that households in the $100,000 to $150,000 annual income range had the fastest growth, with a 20 percent increase to 15 million users. Those surfers now make up 12 percent of the total Internet population in the United States. Households with incomes of more than $150,000 grew second-fastest, rising 14 percent from September 2001 to September 2002.
Growth was far more measured in the middle income ranges. Web users with household incomes of $50,000 to $75,000 grew 11 percent and now make up about 31 percent of the Web population, with 37 million users. Households with incomes of $25,000 to $50,000 rose just 5 percent but still make up 27 percent of the total online population.
Digital Divide?
The data may raise new questions about the long-discussed digital divide, which causes less affluent populations to benefit less from the Internet than wealthier people do.
However, other research has shown that on a global scale, the Internet is becoming more representative of the overall population. One earlier study even suggested that over time, e-commerce would have to deal with a larger Web population with less total buying power.
Overall, NetRatings found that Web use declined slightly in September compared with August. Surfers logged fewer online sessions, viewed fewer pages and spent more than a minute less online for the month.