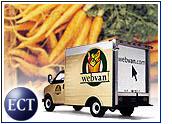 New research by IDC shows that online grocery spending will grow from approximately $200 million (US$) in 1999 to over $8.8 billion by 2004, despite several potential pitfalls along the way.
According to the Framingham, Massachusetts-based research firm, online grocers will need to spend over $25 million — mostly to build new fulfillment centers — in order to penetrate each new market. However, that projected total does not include customer acquisition costs, which PricewaterhouseCoopers indicates will be substantial because many would-be customers are not aware that online grocers exist.
"This market shares many issues that have troubled offline businesses for years, including capital efficiency, obstacles to market penetration, and the price of gas," said Jim Williamson, a senior research analyst with IDC research.
Williamson added, "For everyone who gets involved, it won't be an easy process, and the road to a profitable online grocery market will be littered with bankrupt companies and broken hearts."
For example, the recent troubles faced by online grocer Peapod — including the abrupt resignation of its CEO and the loss of $120 million in promised funding — pushed the company to the financial brink earlier this year. In April, Holland-based Royal Ahold stepped in with a $73 million bailout plan.
Competition for Brick-and-Mortar Grocers
According to the PricewaterhouseCoopers survey, 43 percent of respondents are more likely to shop online for groceries using a service run by their regular supermarket as opposed to an Internet-only grocer.
Even so, "existing grocery stores will have just as difficult a time getting into the online business as the online pure play start-ups. Brick-and-mortar groceries will have to spend big bucks if they want to compete against these nimble upstarts," Williamson said.
IDC predicts that as online grocery spending grows, the market share for traditional groceries, as opposed to prepared foods and convenience services, will decrease from 92 percent in 1999 to less than 70 percent in 2004.
According to the PricewaterhouseCoopers survey, consumers are not likely to abandon their local supermarkets to shop for food on the Internet any time soon. Only 18 percent of the 500-plus Internet users who participated in the 1999 PricewaterhouseCoopers Retail Intelligence System annual consumer survey expressed any interest in online grocery shopping.
Big Payoffs
To succeed in a highly competitive market, online grocers will have to offer both prepared foods and convenience, two areas that IDC expects to be growth areas for online grocer spending.
Williamson said, "The fundamental value proposition of the online grocery business model — we do what you don't want to, and cheap — will resonate with busy suburban families. As a result, profitability will eventually be achieved, particularly in older markets."
Because of the large capital investment required for traditional groceries, online grocers may expand their product selection into higher-margin categories. "Obvious choices include health and beauty products, pet supplies, household cleaners, dry cleaning, video rental, and prepared foods," Williamson said.