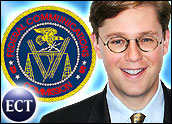 Research by the consultancy A.T. Kearney's telecom practice indicates that the Federal Communications Commission's proposal for "a la carte" pricing of cable TV programming may have an adverse impact on the development of Internet TV and Internet Telephony.
Sweeping changes in telecom regulation could affect emerging services such as IPTV, the Sprint-cable deal, MVNOs and VoIP, according to an analysis by A.T. Kearney's wireline telecom analyst Mitch Mitchell. Mitchell has been working with an array of telecommunications companies, examining the impact that FCC Chairman Kevin Martin's proposal would have.
Downside, Upside
There are pros and cons to the proposed policy, including the following, according to Mitchell's analysis:
The adoption of a la carte requirements for cable companies would be a major headache, and potentially a major distraction at a time when cable companies are trying to focus on accelerating rollout of voice services (VOIP) and the launch of wireless service offerings through the Sprint/cable companies partnership.
An a la carte implementation would likely require a total revamp of the numerous agreements between cable companies and content providers, and significant investment in revamping of programming guides etc., so that a la carte customers would have access to a programming guide that reflect just their programming choices.
Such an implementation could result in significant additional costs as cable companies could be required to communicate with their entire customer base to educate customers regarding the costs associated with migration to an a la carte offering.
Interestingly, Mitchell found that the transition to a la carte service offerings to consumers highlights one of the core advantages embedded in the development and deployment of Baby Bell IPTV services. That is, the ability to effectively "mass customize" programming to match the unique needs and tastes of the individual consumer.
Others Critical
Other experts were equally critical of the proposal by the FCC, but for other reasons.
A statement released by Kyle McSlarrow, president and chief executive officer of the National Cable & Telecommunications Association, claims that "government pay-per-channel regulation would be likely to hurt consumers by increasing prices, decreasing choice and reducing diversity in programming, and it would do so in a way that violates the First Amendment."
What's more, McSlarrow said, the policy would be "troublesome" for the goal of universal deployment of broadband services.
"Such a massive government intrusion into how a broadband service like video is marketed, offered and priced would undoubtedly chill the needed innovation and investment necessary to build out capital intensive networks that rely on the marketplace to determine the most economically effective way to provide a return on investment," said McSlarrow.
Some see the FCC's proposal in a different light. Jason Shrinsky, a partner and chairman of the telecommunications practice at the Washington office of the law firm Kaye Scholer, said he recognizes the gesture the plan represents: "Kevin Martin is pushing this simply as a first step to try to show that the commission under him is pro-active."