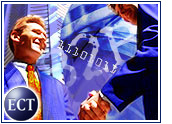 Driven by business-to-business (B2B) spending, e-commerce revenues could reach US$4 trillion by 2004, according to a new report from eMarketer.
The eGlobal Report reveals that the B2B sector currently accounts for 79.2 percent of total e-commerce spending, but will grow to 87 percent of total e-commerce by 2004, when worldwide B2B e-commerce will reach $2.776 trillion in revenues.
The New York City-based consulting firm says that B2B revenues will drive e-commerce at least through 2005.
"Though it is less fun to write about automated supply chains than buying custom-fitted Levi's online, the B2B sector is worth far more in revenue than retail online shopping," said eMarketer analyst Nevin Cohen.
Projections for total e-commerce spending in 2004 range from a prediction of $963 billion by ActivMedia Research to Forrester Research's prediction of $4 trillion. IDC Research projects spending will reach $2.8 trillion, and Goldman Sachs' estimate comes in at $3.48 trillion.
World Surfers
Currently, 229.8 million people, or just 5 percent of the world's adult population aged 14 and over, are active Internet users. eMarketer defines an active Internet user as someone who is online at least one hour per week.
By 2004, as access to the Internet improves, the number of active users will rise to 640.2 million, or 14 percent of the world's adult population. The study also found that the days of U.S. Internet domination are coming to an end as the language and content of the Net is rapidly changing.
Vast Divide
Although global Internet penetration rates are increasing, there are still likely to be regional differences. For instance, a study released in August by McConnell International found that while the African continent is home to nearly 15 percent of the world's population, it possesses just 2 percent of the world's total number of telephones and less than 0.1 percent of all Internet users.
As further evidence of the digital divide, a study released in July by the Group of Eight (G8) nations shows that more than 90 percent of all Internet servers worldwide are in developed countries.
New York, for example, has more Internet servers than the continent of Africa.
Changing Ways
Several factors are responsible for the rush to the digital world, according to eMarketer. These include the fact that the physical infrastructure of the Web — measured in terms of hosts, servers, Web pages, and the devices connecting users to the Web — has expanded substantially.
The cost of going online is also decreasing as countries privatize and deregulate their telecommunications sector.
Mobile devices are also help changing the way the world surfs as more Internet access devices become available. Additionally, penetration rates for mobile phones, which some surfers use to connect to the Net, have skyrocketed in both developing and developed countries.
A study released earlier this year by International Data Corporation (IDC) predicted that by the middle of 2001, the main venue for Internet access will be through wireless devices.