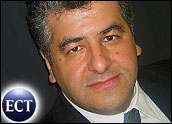 State regulation of e-commerce is currently seeking new territory in the online dating industry. Online dating services are a lucrative and rapidly growing industry that continues to draw concerns about the manner in which its members conduct themselves.
An increasing number of U.S. states have responded to these concerns by proposing laws to regulate online dating services. This movement has created a debate over the merits of legislative regulation as opposed to self-regulation through better business models and policies.
Legislating True.com's Business Model
True.com is a new online dating service that promises to take a tough approach in weeding out criminals and married people. It conducts criminal background and marital status checks on all new members.
However, as the only matchmaking Web site to screen members for criminal records, True.com's involvement in the political arena to have states mandate similar standards from its competitors is facing criticism.
True.com has persuaded state legislatures to sponsor bills that would force its competitors, such as Match.com and Yahoo Personals, to place prominent warnings on all their e-mail and personal advertisements stating that they have not conducted felony conviction or FBI searches on the particular individual.
True.com's competitors question its real motives and point to the fact that True.com is the only online dating service that would not have to suffer a major disadvantage by displaying these warnings.
Pros, Cons of Criminal Screening
True.com's main competitor, Match.com, criticizes the procedure of screening potential members for criminal records as flawed. Match.com has also expressed concerns about any government endorsement of such an initiative.
Match.com states that it has considered but rejected the idea of conducting criminal background checks because national criminal databases are incomplete and criminals can avoid detection by signing up with a fake identity. As a result, Match.com believes that such a screening process could cause members to develop a false sense of security.
Match.com asserts that True.com is simply attempting to have a weak business model mandated through legislation.
While admitting that its criminal background checks are not perfect, True.com argues that they do provide some assurance to its members. According to True.com, a false sense of security already exists because there are users of online dating services who mistakenly believe that some of the larger dating services do perform background checks.
True.com claims that its goal is to clean up the online dating industry, which battles a constant perception that people who use matchmaking services misrepresent themselves.
New California Bill
Last week, a bill was introduced in the California legislature that created additional controversy over the implications of mandating criminal background searches of online dating members.
This bill calls for a fine of US$250 for each day that an online relationship service provider fails to disclose to all online visitors living in California that it does not conduct criminal background checks.
However, an "online relationship service provider" is defined as "a person or entity engaged, directly or indirectly, in the business, for profit, of offering, promoting, or providing access to dating, relationship, compatibility, matrimonial, or social referral services principally on or through their Web site or otherwise through the Internet."
Opponents of this bill find that it is overreaching because it could apply to "compatibility" or "social referral" services, such as Classmates.com, that are far different from an online dating service.
Requirements of Proposed Laws
State legislatures in Michigan, Ohio, Virginia and Texas also have introduced very similar bills regulating online dating services. All of the proposed measures require the service provider to conduct searches for felony and sexual offense convictions from a national database containing at least 170 million criminal and sexual offender records. If the provider does not perform criminal background checks, it must disclose a warning on the Web site's home page and all member profiles and e-mail communications accessible by the residents of the respective state.
These bills also set out the specific wording that must be used in the warning and require that the warning be in bold capital letters in at least 12 point type. Each day that a service provider fails to comply with any of the proposed requirements would constitute a separate misdemeanor offense punishable by a fine.
These legislative initiatives also have international legal consequences in that the mandates contained in them would apply to any online service provider, even those in foreign countries as long as the company in question was signing up members in the legislating state.
As to whether such legislation is needed, the jury is still out, but the one thing that is clear is that most likely a number of these initiatives will come into law. This goes to show that an online company such as True.com can end up having governments legislate its business model even if the members of its industry see no business value in following such model.