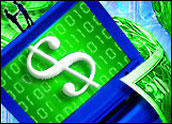 Internet marketers have to walk a narrow line in pitching messages to potential customers during online visits. While marketers try to gather useful customer information to provide follow-up targeted messages, consumers often provide false answers to personal questions or will leave the Web site without pursuing a transaction.
Consumers often falsify their responses in order to prevent online merchants from getting their personal contact information. However, the public's perception of online marketing and merchants continues to evolve.
Consumers are becoming more comfortable with buying online, but remain wary of sharing vital information such as credit card numbers with merchants they don't trust. Online marketers, in return, lose potential customers if they go too far in trying to establish a one-on-one relationship with Web site visitors.
Constantly Shifting Line
This Internet marketing dilemma revolves around invasion of privacy concerns by consumers and permissions marketers need from them to exchange information. What results is a struggle that online merchants and marketers face in following a constantly shifting line between invasion of privacy and effective targeting to consumers.
A new study of consumer responses urges online merchants to adapt their strategies in order to build and retain trust with consumers.
The Ponemon Institute, a research firm dedicated to privacy management practices in business and government, surveyed Internet shoppers about how online marketers can build and capitalize on trust through their communication with consumers. The Online Permissions Survey was sponsored by Dotomi, a direct marketing messaging firm.
The results are based on 1,799 responses from Internet users in all major regions of the United States. The survey found that trust is significantly correlated to improving the relevance of communication with consumers.
According to the study, 84 percent of consumers said they want control over the types and frequency of Internet ads sent from a specific merchant. The study also found that 64 percent of consumers would trust a marketer more if they had control over the types of online communications that were sent to them.
A major finding focuses attention on the benefits online marketers can get by building trust with potential online customers. The study found that 89 percent of consumers would let a trusted marketer share their personal interests with a third party without permission in order to increase the quality of services and products produced.
More Study Results
However, the Ponemon Institute study revealed that online shoppers draw the line at tracking activities involving adware or spyware to advertise online. Only 20 percent of the respondents, the lowest rate for any any question, would let marketers share information to track their buying behavior to influence future purchasing decisions.
To gain the consumer's respect, an online merchant must show that it understands each consumer's unique interests. According to 56 percent of the respondents, the online merchants respect consumers when useful information is the basis of follow-up messages.
Online merchants take note. Consumers don't mind being contacted as long as something is in it for them.
Some 82 percent of consumers said they want to be contacted by an online merchant only if there is incentive. They defined incentives as discounts or free offers. And 92 percent of the respondents want to be contacted only if a product or promotion offers a great value to them based on past purchasing habits.
Privacy Counts
Dr. Larry Ponemon, the founder and chairman of the Ponemon Institute, designed the study to focus on issues that cause consumer worries about their privacy.
"Privacy policies on the Internet are still very ambiguous for many consumers, and merchants must make a concerted effort to educate consumers to their practices, and be ready for an uphill battle to gain their trust," Ponemon said.
He said marketers need to understand the factors that cause consumers to either trust or not trust an online merchant. The bottom line for both marketers and merchants is how do you use permissions to get consumers to your business.
"We asked the question, 'Is there a relationship between the issues of privacy and permissions?' We found the answer is that consumers see the two aspects as being one and the same," Ponemon told the E-Commerce Times.
"The correlation between the relevance and frequency of online ads with the trust of that merchant was much stronger than we anticipated. The results suggest that consumers seek quality over quantity in the ads they receive, and merchants would be wise to target campaigns to each consumer as individually as possible."
Control Is Big Factor
"If they think they will be bombarded with adds, they won't complete a transaction online," Ponemon said.
Most online transactions involve getting the consumer to provide as much information as possible on the request form. However, consumers are not willing to provide all the requested details. The study showed that 84 percent of the respondents want more control over the details they provide as a condition of completing an online transaction.
"Online retailers need to start out slowly," Ponemon said. "Most online places go too fast."
That results in consumers putting false information on the forms to protect their privacy.
What Not To Ask
The survey results suggest that online merchants should collect only the information that is useful to complete the sale, Ponemon said.
It asked respondents to rank the kind of data they are least likely to answer for an untrusted online merchant. Their answers included special life events like anniversaries and birthdays, reading interests, social security numbers, special interests and banking information.
Other data online consumers are not likely to share with untrusted online merchants include income levels, information about family members and clothing sizes.
Significant Sampling
Ponemon said he believes his study on permissions is statistically valid. He hoped for a 15 percent response. He got 17 percent.
The survey was mailed to 10,444 people. A total of 1,799 people responded.
"That was a good response. It was better than average," Ponemon told the E-Commerce Times.
Respondents who returned completed surveys received US$5.
Follow-Up Study Planned
Ponemon said he is encouraged by the response to the survey from Web design companies. He expects to see new online strategies as a result of the information.
He will now turn his attentions to the spillover effect.
"I want to do a second study. Let's find out if the trust level is there, does that convert to higher sales," he asked.
He said the premise of the proposed follow-up study is that if organizations are patient to get customers to understand what happens with their data, it will pay enormous dividends to the online merchant.
"Trust takes a long time to build. It can be lost overnight. Permissions is the key issue," Ponemon said.
"Once you lose it, it is hard to get back."