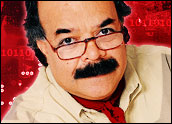 The Internet highway is just a free medium, like the roads and all the highways. Somehow there are those who walk on the roads and those who run, some drive taxis, others drive Ferraris or race tractor-trailers. To each his own, they are all free, and so are the maps. Thank heaven.
This brings us to two main points: why is 90 percent of the Internet so underutilized, and why is 90 percent of the technology marketing increasingly poor?
Is it because this highway is considered free and taken for granted and has lost its power? Or is it because we have exhausted what we already know and have tried all that, been there, and therefore there is nothing further left to do.
Imagine
Or is it because that to most corporations, Internet branding and marketing is divided into three simple parts: a domain name, a Web site and e-mails.
Let's explore.
Imagine that the Web as we know it today will be reinvented tomorrow morning. Wow — first we all need a brand new fifth generation site, which is about five steps ahead of what is in use today. Ninety-nine percent of the Web sites today are almost too old to be fixed, too far off the targets and unfit for the road. Most require a brand new approach under the brand new rules of Internet branding and must address the current needs under e-commerce protocols offering true access to your products, services and corporate management.
This is now very serious. The real issue is how you incorporate new changes and how and to whom you deliver the message.
Without a proper system of having a powerful, unique, one of a kind URL with trademark protection, your longterm Internet branding is going nowhere — period.
Branding Savvy
Secondly, your entire organization must become Internet branding savvy. This can be achieved by bringing in streamlined educational support on various aspects of e-commerce challenges and blending them with new technologies so your teams stays ahead of the curves.
Also imagine that tomorrow morning, the globalization, as we know it today, suddenly becomes your entire local market. Why not — customs, borders and passports are only distractions, in reality; the globe is all one giant land of opportunity and a huge selling market. So we need some maps and trade directories — but the fact remains that there are customers out there searching for you. If you are visible, they will find you. Otherwise you will be hidden just behind the computers.
Following are three challenges of Internet branding:
Message. Technology corporations very often have their marketing messages twisted as they serve several groups of audiences, and in this process, customers simply shut out. The reason is often because award-winning Web site developers and branding experts armed with fancy slogans seriously lack the skills to translate the technology issues and its direct impact. Sounds easy, yet it is an art to tell the story correctly. Hence, brilliant ideas are collecting dust while the stories betray them.
Colors. Customers are color-blinded. Corporations often behave like jumping jacks as they promote their ideas in some strange, preferred choice of a color scheme or a single color motif. Ad agencies use color-specific branding themes as a fix to all marketing problems. Good luck. Customers have no time to remember that every time they see pink, it will remind them of a certain circuit board or a router. Rather, it might kindle old memories and the darker side of a pink slip encounter. Forget the color schemes; just concentrate on the message and the identity. Internet branding has no room for exclusive colors and spinning flashy sites. Rather, it needs correct content and quick accessibility, a correct and a simple text with free and clear URL name identities blended with an overall global name identity.
Universality. Web sites are for the world. Whether you like it or not, your Web site is open to the global customer base. Adopt the international rules and standards, and develop hassle-free corporate image and corporate name identity so you can navigate global e-commerce without constraint or restrictions. It is the easiest thing to do.

Watch out for the big and expensive branding that always whispers about the great difficulties in finding clean universal names but leaves you with deadbeats. Naming is very easy only when proper laws are applied.
Learn To Drive
On the road, again. The Internet highway is a free gift to our society from the technological side of the brain of our civilization. We must periodically not only thank all the wizards but also learn to drive on this unlimited-speed super highway — not as a learner but rather as a race car driver.
The light is green now.
---
Naseem Javed
, author
Naming for Power
and also
Domain Wars
, is recognized as a world authority on global nameidentities and domain issues. Javed founded ABC Namebank, aconsultancy he established a quarter century ago, and conducts executiveworkshops on image and name identity issues. Contact him at
[email protected]
.
---