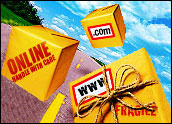 RedTag.com, a discount online retail site, launches today with a US$1.95 shipping charge on all orders, one of the lowest such rates in the industry.
RedTag.com joins the likes of discount retail sites such as Overstock.com, which sells retailers' excess inventory at a fraction of the price that other sites do.
RedTag.com is not a new brand, however. In 2004, the original RedTag.com site closed down. However, Chicago-based Enable Holdings, which also runs online auction site uBid.com, bought the domain name RedTag.com last spring.
RedTag.com will sell consumer electronics, computers, apparel, home and garden items and watches and jewelry, among other things, said Enable Holdings CEO Jeff Hoffman.
Shipping Rates Already Low
The introduction of a $1.95 shipping rate by RedTag.com could make shipping prices in the online retail sector even more competitive than they are now.
"I think pricing is already extremely competitive online," Scott Silverman, executive director of Shop.org, told the E-Commerce Times. "Your competitor is only a click away, and we've seen over the last four years that retailers have become very aggressive with shipping prices and used it as one of their most productive promotions. I don't know that it will necessarily start a price war because it's already extremely competitive."
Shop.org is part of the Washington, D.C.-based National Retail Foundation.
Many online retailers already offer cut-rate, and even free shipping, under the right conditions, noted Silverman.
"There's free shipping that a lot of retailers offer — Zappos has free shipping with no minimum order and Amazon.com offers free shipping with a minimum $25 order," Silverman said. "During the holiday season last year, eight to 10 retailers were offering free shipping with no conditions or a minimum order size."
Low Shipping Rates Eat Into Margins
Silverman noted that offering low or free shipping rates comes with risks.
"The risk is that it eats into your margins," he said. "Free shipping or significantly discounted shipping costs the retailer money."
However, low-rate or free shipping can also serve as a timely promotion given the price of gasoline because people don't want to drive to the store as much as they used to when gas was more affordable, Silverman said.
"I'm sure from a consumer perspective, they still think gas is a major expense and they're trying to reduce it any way they can," he said. "That's one of the reasons that the down economy has the effect of pushing people to shop online more than they did in the past."
Not Looking to Start a Price War
"A lot of consumers tell us that one of the things that keeps them from making online purchases is fear of getting a big bill for shipping," Hoffman told the E-Commerce Times. "We fixed the shipping price to eliminate that concern. A price war is not our intent. We spend our time making sure we have a good value equation for our customers. We don't know how our competition will react."
In theory, RedTag.com is leaving money on the table. But that's not the way Hoffman sees it.
"We're investing in the lifetime value of a customer," he said. "We'll make it up, hopefully, when customers come back to RedTag.com to buy more items. That's why we're willing to go low on the shipping because we want to earn the customers' long-term loyalty."
Overstock.com: Target on Its Back
One observer thinks that RedTag.com has Overstock.com in its crosshairs, though. Overstock.com charges $2.95 for standard ground shipping.
"They're certainly going after Overstock's business," Domenic LaCava, an equity analyst with Canaccord Adams, told the E-Commerce Times. "RedTag is smaller, but it's got some good relationships in place."
LaCava disagrees with Shop.org's Silverman that RedTag.com isn't launching a shipping rate price war.
"I think because RedTag is smaller right now, it could be a price war," LaCava said. "But I'm not sure it'll be on Overstock's or Amazon's radar quite yet. Longer term, sure, it could be something Overstock will have to pay attention to."