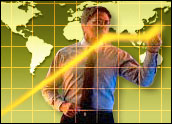 It's been said that the meek shall inherit the Earth, but in the cutthroat world of technology, only the bold survive.
Some of the biggest names in the high-tech and media sectors launched initiatives in the last year that have changed the landscape — perhaps permanently.
All of their innovations — spanning the software, digital music, online video and mobile phone spaces — were fraught with risk.
This two-part series shines a spotlight on five bold decisions that paid off in the past year. Here are the first two:
The launch of Hulu, a joint venture between NBC and News Corp., owner of Fox. The online advertising-supported site allows viewers to watch television and movie content — thousands of titles — for free.
Amazon.com's launch of Amazon MP3, which enabled the e-commerce giant to break the digital rights management stranglehold on digital music. Today, the storefront has nearly 7 million songs available for download. And it's legal.
The Hulu Story
What spurred NBC and News Corp. to launch Hulu?
"They saw an opportunity to provide media to their viewers in a new way," Hulu Chief Technology Officer Eric Feng told the E-Commerce Times. "From my perspective, News Corp. and NBC were just being very innovative companies."
Yet there may have been more behind the Hulu launch than a desire to innovate.
"Other people were generating eyeballs on the Web from [NBC's and Fox's] content," noted Josh Martin, an analyst with the Yankee Group.
"The best way to fight piracy is to make your content freely available in an easy-to-consume fashion," he told the E-Commerce Times. "NBC and Fox saw it would be risky to wait on this."
Since its official launch in March 2008, Hulu has increased its content lineup from 100 titles to thousands of videos, including full episodes of TV shows, full-length movies, sports games and highlights, and clips.
But getting there wasn't easy.
The biggest challenge in getting the site up and running was persuading hundreds of content owners to unleash their copyrighted material.
"Between March and July 2007, Fox and NBC were doing a lot of work clearing rights and putting together a content lineup for the service," Feng said. "The rights landscape is very complex, and the rights have to be cleared on a show-by-show, and sometimes regional, basis."
When NBC and Fox first announced their intention to launch Hulu, the initiative was not well received in tech circles.
"The blogosphere had doubts that two big media companies would be able to work together because joint ventures are so fraught with peril," Hulu's Feng said. "We were actually nicknamed 'The Clown Co.' by the bloggers. But we really rallied around that. We wanted to prove them wrong."
Hulu also faced the risk that piracy would actually increase if viewers rejected the service outright when it was launched.
"The greatest risk was about devaluing [NBC's and News Corp.'s] brand or releasing something legitimate and having it fail," Yankee Group's Martin said. "What kind of sway would that have given rogue Web sites? They would have been able to say that they can drive traffic on the Web, but the copyright holders can't."
That didn't happen. Hulu is growing fast. It went from 2.85 million unique visitors in September to 5.34 million in October, an 87.4 percent increase, according to comScore.
Amazon Goes DRM-Free
Digital music has come a long way since the launch of Napster in 1999. References to Apple's iTunes store and iPod devices are right up there in the popular lexicon with "Dude, just Google it."
Never one to get left behind when it comes to selling something over the Internet, Amazon.com has always been at the forefront of music. It's been selling CDs for a decade and digital music files in all their various formats for the past several years.
Early last year, however, Amazon felt it was time to change the way digital music was delivered to customers.
"We took a look in 2007 at what was going on in the digital music space," Pete Baltaxe, director of worldwide digital music at Amazon.com, told the E-Commerce Times. "We asked ourselves, 'What would be the ideal customer experience? Interoperability between devices.'"
In other words, consumers should be able to download music and listen to it on any device they want, be it a desktop or laptop computer, a smartphone, an iPod or a Zune.
The problem was that the four major record labels — Warner Music Group, EMI Group, Universal Music Group and Sony BMG Music Entertainment — were reluctant to let go of their digital rights management technology.
DRM technology empowers the labels to detail what can and cannot be done with their copyrighted content. It can be used to limit the number of times someone listens to a song, or the number and kinds of devices used to listen to a song.
"One of the primary challenges was convincing the record labels that this was the best way to go, by proving to them that it was a great customer experience," said Baltaxe. "We had to help them understand that the best offense against piracy was to present customers with a great legal alternative. As you might imagine, some of the labels took more convincing than others."
The biggest risk, then, was whether Amazon could get all the labels on board — and eventually, it did. By the end of January, all four major record labels had signed on to what was by then called "Amazon MP3."
"The long-term payoff," Baltaxe said, "is that Amazon MP3 makes Amazon.com even more of a complete music destination."