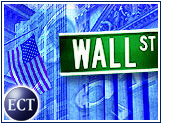 Versata, Inc. (Nasdaq: VATA) plummeted Monday, falling 4.56 to 3.81 afterwarning that fourth-quarter results will be below previous expectations.
The Oakland, California-based maker of e-commerce software said it expectsrevenue of US$16.5 million to $17 million for the quarter.
Full-year revenue will be well ahead of the prior year, the company said, at$58.1 million to $58.6 million. In 1999, the company saw revenue of $12.6million.
Software revenue is running 13 to 17 percent below previous estimates,reflecting "prospective purchasers reducing or postponing buying decisionsright at the end of the quarter," the company said.
The company blamed the shortfall on "lower revenue in the services business,reflecting a changing market for these services and the company's continuedaggressive transition of software implementation to system integratorpartners," Versata said.
Versata also said it is looking for a loss before extraordinary items and chargesof 28 to 30 cents per share for the fourth quarter.
"We believe that our customers remain committed to the Versata E-BusinessAutomation System," said president and chief executive officerJack Hewitt. "However, we saw that with the shift in the outlook for theU.S. economy and the demise of many dot-coms, our Global 2000 customer basebegan making more deliberate buying decisions."
Hewitt said the company is looking for things to pick up along with theeconomy. "In nearly all cases, these customers did not purchase alternativeproducts, and many of these organizations have told us that they expectthese buying decisions to be made in the first half of 2001," Hewitt added.
Hewitt commented that although fourth-quarter revenues did not meet the company's expectations due to the challenges in the changing market environment, Versata continues tobelieve that it can achieve significant revenue growth in 2001.
Versata counts among its clients such companies as DreamWorks SKG, Sanwa Bank, JP Morgan and the U.S. Air Force.