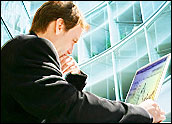 Computer manufacturers had cause for good cheer in the fourth quarter of 2007 with PC shipments increasing a little more than 15 percent worldwide and nearly 9 percent in the U.S., according toIDC's Worldwide Quarterly PC Tracker report.
However, the pending recession in the U.S. could led to slower growth in the next few years, the research firm predicted.
"There is a lot happening with vendors repositioning their channels and going after new markets, while falling prices and portable adoption continue to drive volume," said Loren Loverde, director of IDC's Worldwide Quarter PC Tracker.
"Despite fourth quarter strength, projections for the next couple years anticipate slower growth. Rising concerns about economic growth are likely to reduce expectations further, although we're still likely to see double digit growth through 2008 and probably 2009," he continued.
2007: A Good Year For All
Worldwide PC shipments grew to 269 million units in 2007, an increase of 14.3 percent, according to the report. HP was the chief beneficiary and maintained its rank as the No. 1 PC maker with more than 50.5 million units shipped. Dell was second with 40 million, while Acer — which scooped up Gateway in the fourth quarter — moved into the No. 3 spot with 24.6 million units. Lenovo brought up the rear, in fourth place with 20.2 million units worldwide.
Regionally, sales in Asia-Pacific were strongest, growing by more than 20 percent with consistently steady growth in the major markets. Shipments in Australia and Indonesia accelerated during the fourth quarter. Hot markets — such as Malaysia and Vietnam — continued to enjoy growth above 20 percent, although they have slowed a bit from their mid-year highs.
The Europe, Middle East and Africa (EMEA) market saw the highest rate of growth, driven by a 35 percent increase in notebook shipments. That is a drop, however, from a third-quarter peak of 48 percent. Overall, the region saw growth of nearly 15 percent — the second-fastest (after the recent third quarter) since mid-2006, IDC reported.
Japan Makes a Comeback
After 18 months of declines, the Japanese market made a comeback due to a strong commercial market in the fourth quarter with growth of some 10 percent. The previous two quarters saw declines of 4 percent. Increased demand and solid performance from HP and Dell, along with a weak market one year ago, contributed to the increase.
The U.S. saw the smallest percentage increase, with a nearly 9 percent rise due to PC makers' expansion of retail channels and competition among the top vendors. Acer led the pack with a 60 percent increase over sales one year ago, due in part to its acquisition of Gateway and continued expansion into other regions. Combined, Gateway and Acer shipments jumped more than 25 percent worldwide during the quarter.
Chinese computer maker Lenovo saw its third consecutive quarter of 22 percent growth with consistent double-digit increases in the U.S. and Europe, as well as the Asia-Pacific region. Dell saw a 15.2 percent growth in the U.S. and 17.1 percent worldwide. Market leader HP continued to gain share in the fourth quarter, but it was slower than earlier in 2007. That said, the company grew at a faster rate than any other, with the exception of Acer.
The R-Word in 2008
Although overall market growth was good in the last quarter of 2007 and is a "good sign" showing the impact of competition and strong holiday demand, IDC said it "remains conservative about growth prospects in the U.S. for 2008 based on economic concerns."
"The better-than-expected growth in the U.S. market can be largely attributed to channel realignment among key players, particularity through the retail expansion of Dell and Acer," said David Daoud, research manager for personal computing at IDC.
"The results, however, do not reflect changes in the fundamentals of demand. Consumers continue to be attracted by mobile platforms and are benefiting from the proliferation of channels and heightened competition, which continue to bring prices down. Going forward, demand could soften further if bad news over the economy persists and consumer confidence worsens," he continued.
Places like Asia-Pacific and EMEA are "flush with money," with so much investment in infrastructure "beefing up" these economies that is it unlikely countries in the region will feel the effects of a U.S. recession, Daoud pointed out.
"It is not going to affect them as much as it will affect the U.S. The focus will most likely be on the U.S. if there is a recession, and, in this case, the market is not doing great in '08. We don't expect the market to be terrific in '08. In fact, we expect the market to grow a mid-single-digit from a unit perspective, which means from a revenue perspective it is less than that, perhaps even flat," he explained.
Limited to the U.S.
If the recession hits, potential buyers will retract, taking a wait-and-see position, which will therefore lead to a reduction in business for PC makers in the U.S.
"A recession does not bode well for the PC industry as much as it doesn't bode well for any other industry. As much as the economy is going to be hit, the electronics sector in general could also be in trouble. But, keep in mind it will be essentially a U.S. phenomenon," Daoud told the E-Commerce Times.
PC companies hoping to mitigate the effects of a U.S. recession need to have a growing portion of international sales as part of their strategy in 2008, he continued.
"All these companies are positioning themselves in emerging markets in EMEA, in Europe, in China, India and Brazil. That way, that will help them offset potential bad news that may be in the U.S.," Daoud concluded.