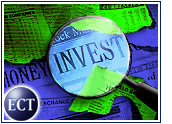 S1 (Nasdaq: SONE) climbed US$1.85 to $8.93in morning trading Wednesday, after the online banking software maker topped analyst estimates for the first quarter.
"Our revenue performance was driven by 72 new customerspurchasing a good cross-section of our enterprise e-finance offerings,"S1 chief executive officer Jaime Ellertson said. "Our two most important revenue categories — softwarelicense fees and data center revenues — showed substantial year-over-yeargrowth and quarter-over-quarter growth."
The company said that revenue for thequarter ended March 31st rose to $63.1 million from $50.4 million in thesame period last year.
The loss before interest, taxes, depreciation andamortization narrowed to $9.6 million, or 16 cents per share, from $17.7million, or 35 cents.
Analysts had expected revenue of $61.9 million and a loss of 25 cents pershare. WR Hambrecht reportedly upgraded S1 to strong buy from buy followingthe report.
S1's net loss, however, grew to $92.1 million, or $1.58 per share, from$75.2 million, or $1.49. Latest-quarter results included a $52.3 millioncharge related to the sale of the company's VerticalOne subsidiary.
Software license revenue rose 29 percent from a year earlier to $13.8million, while data center revenue soared 192 percent, the company said. Professional servicesrevenue rose 12 percent, to $38.6 million.
S1 said it expects second-quarter revenue of $62 million to $65 million,with a loss before interest, taxes, depreciation and amortization of $7million to $9 million.
For the year as a whole, the company expects revenueof $275 million to $285 million. S1 also said it "remains committed" to its goalof reaching an operating profit this year.