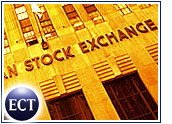 S1 Corp. (Nasdaq: SONE) fell US$1.25 to $6.50 Thursday after announcing that its fourth-quarter results would be "disappointing." In early trading Friday, however, the stock bumped up to $6.88.
The Atlanta, Georgia-based provider of e-commerce software to the financialindustry said revenue for the quarter will likely total $60 million to $65million — with a loss of $25 million to $28 million, or 44 to 50 cents per share, before income taxes, depreciation and amortization. The net loss, the company said, will be $5.64 to $5.68 per share.
S1 chief executive officer Jaime Ellertson said the losses are the result ofcompany efforts "to introduce greater operational efficiencies intothe business" and position the business for long-term success in a "rapidly evolving market."
Ellerson said the company's efforts "did not have a material impact on cashusage" and will help S1 with its plan to break even before taxes, depreciation andamortization during 2001.
Following the announcement, Putnam Lovell Securities reportedly downgraded S1 shares to hold from buy.
In November, S1 reported a third-quarter loss before extraordinary items of$12.6 million, or 23 cents per share, compared with a loss of $33,000, orbreakeven, in the year-earlier quarter. The company posted a net loss of$136.1 million, or $2.46 per share, including charges of $125.3 million, or$2.23 per share, for the consolidation of acquisitions.
Also in November, S1 laid off 7 percent of its workforce as it combined anumber of newly acquired businesses.
S1 shares set a 52-week low of 4.62 in November, and are still trading farbelow their year's high of 142.25, reached last February.