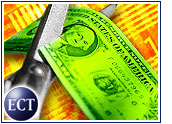 PSINet (Nasdaq: PSIX) fell 28 U.S. cents to 72cents in morning trading Tuesday, after the company said that it will need torestructure some of its debt or face the possibility of default.
The Ashburn, Virginia-based Internet services company said that it agreed to sellits PSINet Transaction Solutions business to an investment group led by GTCRGolder Rauner for $300 million in cash.
Even with the sale, expected to close by the end of April, and two otherrecently completed sales, PSINet said it is "likely" it will need torestructure or renegotiate some of its obligations, in order to avoid defaultunder debt agreements.
The sale of the transaction unit "will increase thecompany's financial flexibility as it evaluates its financial and strategicoptions," PSINet said.
PSINet said that it also completed the sale of its PSINet Global Solutionsbusiness, as well as the sale of a San Francisco, California, facility thatwas to have been developed into a Web hosting center. Terms of the saleswere not disclosed.
As of March 2nd, PSINet had $300 million in cash and short-term securities.The company has been looking for ways to cut spending and sell assets inorder to raise capital.
Earlier this month, the company said it had completed the spinoff of itsInter.net Internet service provider business to the division's management.
PSINet, which provides Web hosting, switching, and other retail andwholesale Internet services, has seen its stock price fall from a 52-weekhigh of $55.75, set last spring.