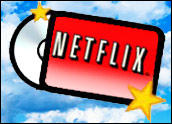 Coming soon to a Sony PlayStation 3 near you: the ability to shoot aliens and bad guys in a video game, then watch your favorite action movie star shoot aliens and bad guys in a videogame-like blockbuster film streamed via Netflix.
The movie rental service announced Monday that it had partnered with Sony to allow PS3 users the chance to rent movies online via their gaming console's Playstation Network beginning sometime in November. As PS3 owners know, there is no charge to use the PlayStation Network, unlike the Xbox Live Gold membership that also allows Netflix streaming with a yearly fee of US$49.99.
The PS3 movie streaming feature will require an $8.99 monthly Netflix membership. That membership will also allow users to stream movies to their computers and rent a wider selection of physical DVDs by mail. PS3 users who want to stream movies to their consoles will have to slide a special Blu-ray disc from the service into their gaming consoles to initiate the feature. Netflix says it will send the disc for free to all members who request one.
"As instantly watching movies and TV episodes streamed from Netflix becomes an increasingly popular way to enjoy the Netflix service, our goal is to rapidly expand the devices that stream to our members," said Netflix CEO and Cofounder Reed Hastings. "As a leading game console and Blu-ray disc player, bringing Netflix to the PS3 system is a real win for both Netflix members and PS3 system owners."
Xbox Live vs. PlayStation Network
The biggest victory, however, may belong to Sony, already riding the momentum of a new, cheaper PS3 Slim that vaulted to the top of the gaming console sales lists in September, according to market research group NPD.
Will consumers who are giving the new $299 PS3 price tag another look thanks to its onboard Blu-ray player also take into account the advantages of its connectivity features? MediaMall's PlayOn software already provides PS3 owners with Netflix access, though the application costs $40. Even without the Netflix account, PS3 users can already use the PlayStation Network to rent or buy HD TV shows and movies for view on the console or a PSP handheld device. Gamers also get online multiplayer gaming, text/chat and access to paid downloads of exclusive PS3 and PSOne games.
Xbox Live's Silver membership does allow for free chat and texting for gamers. It also provides some free content like trailers and demos. However, Live Gold membership is required to join in online multiplayer games or view the Netflix library of movies and TV shows, and that's in addition to having the Netflix membership.
"Free" is always a huge advantage, even without the weight of a recession weighing on consumers' shoulders, said Jason Blackwell, digital home practice director for ABI Research. However, as it stands now, the network connectivity options of gaming consoles aren't the biggest reasons yet for purchasing any of them. "People have different options, but it's primarily purchased as a gaming device. You certainly have your Xbox fans, and you have some dedicated exclusive content in terms of gaming that may be available on one device or another, but I'm not sure if that's going to be a huge deciding factor in these kinds of consoles," Blackwell told the E-Commerce Times.
Netflix's Movies-Anywhere Strategy
For its part, Netflix's deal with Sony may be another step toward making its now-familiar red mailing envelopes containing DVDs obsolete. The company might actually be OK with that, considering the overhead involved with stocking and distributing physical media. However, that's probably not going to happen any time soon, according to Steve Swasey, Netflix's vice president for corporate communications.
"Not for another 20 years," Swasey told the E-Commerce Times. "We're going to be shipping mailers until 2030 at least. That part of the business continues to grow. The beauty of Netflix is the DVD side of the business continues to grow and streaming continues to grow."
What about supporting all the different platforms for streaming? Will any of the partners be asking for exclusivity as the marketplace becomes more crowded? "The goal for Netflix is to be ubiquitous and to be on whatever screen or platform you enjoy movies on. All of our partners know of our goal and strategy, and we're kind of neutral. We want to be Switzerland," Swasey said.
Sony doesn't charge for access to the PlayStation Network, and Microsoft does charge for access to Xbox Live, Swasey added. However, that was as far as that part of the conversation went. "If you want to talk about that, I have a 206 area code number for you to call," Swasey laughed, referring to the Seattle-area headquarters of Microsoft. "Again, we are neutral. The Xbox has been an outstanding platform for us, a terrific partner. A lot of Netflix members watch our movies on it, and we're looking forward to adding PS3 members doing the same thing."
The Analyst View
That strategy appears to be working, Blackwell said. "They're making deals across the board and across a number of different devices, but there's not a clear winner. Nobody's saying Blu-ray players are going to be the platform, or game consoles, where digital entertainment is delivered. It's smart to take the shotgun approach."
Yet there will still be a place for physical media like DVDs in the home for a few more years, Blackwell said. Integrated, multi-purpose devices like gaming consoles will likely have the digital delivery edge over single-purpose, dedicated boxes like Vudu or Roku's Netflix player, he added.
"It's a lot more appealing to consumers, as opposed to going out and looking for another box to stick under the TV," he said. "Those kinds of models haven't been that successful, and consumers typically aren't looking for that kind of device. There's a huge existing base of PS3s and Xbox 360s."