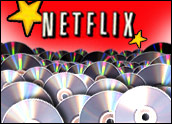 Follow a mail carrier around sometime; provided you don't get arrested for stalking a civil service worker, you'll likely notice a proliferation of bright-red Netflix envelopes containing the latest DVDs being shoved into mailboxes. But a statement by a company executive in New York Wednesday may signal the beginning of the end of such colorful real-world distribution of movies.
The company will offer a separate streaming-only service "sometime in the foreseeable future," Netflix Chief Financial Officer Barry McCarthy told the audience at the Jeffries Media and Internet Conference. There was no talk of pricing, new partnerships with content providers or new devices that would allow the movies to be seen on a TV, but the statement is viewed by industry watchers as another baby-step toward digital distribution of entertainment into consumers' homes.
Netflix began offering its "Watch Instantly" service in early 2007 as a way to enjoy movies and TV shows on computers, and in 2008 that was expanded to include viewing on TVs via Web-enabled devices like the Roku set-top box, Xbox 360 game consoles, Blu-ray players from Samsung and LG and special-model TiVo digital video recorders; a Visio device is expected later this year. However, the feature has always been bundled with the DVD-by-mail service that's made Netflix a major player in home entertainment and the bane of Blockbuster's existence; the cheapest subscription price to enjoy two mailed movies and unlimited "Watch Instantly" service is US$13.99 a month.
Netflix's Net Strategy
"We haven't said when or what it (the streaming-only service) would look like," Steve Swasey, Netflix vice president of corporate communications, told the E-Commerce Times. "It's just speculative at this point. The fact is that the DVD world and the rental business will continue, and people will be renting DVDs for 10 to 15 more years. That's just the natural product life cycle. But we are building out the streaming service. We've got great partners."
Netflix doesn't release exact figures about how many of its 10 million members are streaming movies, but Swasey said the number is at least 1 million. Also, both his company and Microsoft have announced that more than 1 million Xbox Live Gold members have downloaded the Netflix application for the console since it became available last summer, and those members have streamed "1.5 billion minutes" worth of content. Xbox Live has 17 million members, and the company has told analysts that 50-60 percent of those are paying monthly Gold memberships.
Swasey also confirms that his company continues to talk to content providers about enhancing the Netflix streaming library. Money is the chief reason the newer titles are not available for streaming, but still can be rented via DVD. "It's obvious that Netflix continues to evolve as a service. That means working with content providers and delivery partners. The beauty of this is, this has never been done before. We're creating this as we're going along."
A Stampede to Lock Up Content Deals
"I think it's a direction that most people in the industry are pushing for," ABI Research industry analyst Mike Inuoye told the E-Commerce Times. "It's cheaper distribution, there's less mail and mailing fees. The big thing is getting the content and licensing rights to expand the library and offer the movies that people want."
Indeed, most of the movies in Netflix's "Watch Instantly" service are not the latest must-have offerings that were just in theaters six months ago, Inuoye said. However, he guesses that the company, along with cable providers like Comcast, is working to further narrow the window of time between theater release dates and DVD/video on demand premieres; whatever would constitute a magic pricing point for consumers. "As you get more of the bigger new movies out there right away that they can get onto streaming, then you could come up with a price of seven bucks or whatever a month. As it is right now, it's a hard sell for streaming service alone. You still have to get DVDs for the newer movies. They complement each other."
The move may also further harden the positions of content providers like NBC and Fox, which have pulled their joint Hulu streaming service from Boxee and TV.com, Inouye said, as all providers seek the right formula for making money off of digital distribution of content.