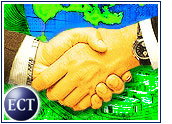 Proxicom (Nasdaq: PXCM) climbed US$1.64 to $7.30 in morning trading Monday, after the Internet consulting company said it received a buyout offer from Dimension Data of the United Kingdom, topping an earlier bid from Compaq (NYSE: CPQ).
Proxicom said Dimension Data offered to buy the company for $7.50 per share in cash. Last month, however, Proxicom agreed to Compaq's $5.75-per-share cash bid.
Proxicom said that its directors authorized management and company advisers to begin negotiations with Dimension Data. According to Proxicom, under the terms of the Compaq agreement, if Proxicom determines Dimension Data's offer is superior to Compaq's, Compaq will have three business days to decide whether to match it.
If the Compaq deal falls apart, Proxicom will have to pay the computer maker a $10 million termination fee.
Compaq, which began a tender offer for Proxicom's shares on May 3rd, reportedly said its merger agreement with the company is still in effect. Compaq shares were up 29 cents at $17.79.
In announcing the deal last month, Compaq said the Proxicom purchase was a step toward strengthening Compaq's professional services offerings and its ability to deliver comprehensive services. Compaq has said it wants to get 30 percent of its revenue from consulting and services, up from 21 percent currently.
Proxicom, like other Internet consultants, has seen demand for its services fall along with the dot-com economy. On Friday, the company reported a first-quarter pro forma loss of $7.6 million, or 13 cents per share, compared with pro forma income of $2.7 million, or 4 cents, in the same period a year earlier.
Proxicom also took a $57 million restructuring charge in the first quarter of 2001, covering layoffs and other actions taken to reduce costs amid sinking demand for Internet services.
Chairman and chief executive officer Raul Fernandez said results for the quarter ended March 31st "reflected the continued weakness in demand for IT services in U.S. and European markets."