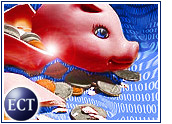 Microsoft Corp. (Nasdaq: MSFT) wasdown 4 7/16 at 51 1/16 early Friday, as the software giant became the latesttechnology company to warn of a soft December quarter.
"We believe, like many other technology companies, that the current weaknessin worldwide economic conditions is resulting in a slowdown in PC sales,corporate IT spending, and consumer online servicesand advertising," said chief financial officer John Connors.
Microsoft joins computer makers like Compaq Corp., chip companies likeIntel, and a host of other technology businesses in saying a slump in demandwill crimp profits this quarter and beyond.
Yet news that the industry downturn was affecting a company as big asMicrosoft — which apparently had not issued a profit warning in 10 years –was reported to weigh on U.S. stocks ahead of the market opening. Thecompany issued its report after the close of trading Thursday.
Revenue at the Redmond, Washington-based company will likely total $6.4billion to $6.5 billion for the second quarter ending December 31st, withearnings per share of 46 to 47 cents, Microsoft said. The results are 5 to 6percent below previous expectations.
Microsoft also cut its revenue and earnings expectations for the rest of thefiscal year by about 5 percent, saying it now expects to earn $1.80 to $1.82per share on revenue of $25.2 billion to $25.4 billion.
The company plans to report first-quarter results and further detail theoutlook for the rest of the year on January 18th.
"While our short-term results will continue to be affected by the currenteconomic environment, our long-term outlook on the information technologymarket and the PC industry remains positive," Connors said. "We have alineup of new products and technologies that are receiving rave reviews fromcustomers, and we continue to be very excited about the progress we aremaking across all our businesses."