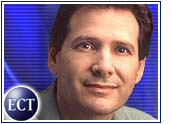 Name-your-price e-tailer Priceline.com (Nasdaq: PCLN) announced its fourth international venture Monday, saying it will bring its service to Japan through an alliance with Japanese Internet investor Softbank Corp.
The Norwalk, Connecticut-based Priceline will start its Japanese service the way it begins operations in all markets, initially offering airline tickets and hotel reservations online. In the U.S., Priceline has expanded its online store to include groceries, gasoline and long-distance telephone services.
The company pioneered the concept of having consumers choose from among competing companies for the lowest price on services and items.
Priceline and Softbank will each invest an undisclosed sum of money in Priceline Japan, which will license Priceline.com's business method in exchange for an annual fee. Softbank will be responsible for picking the new company's management team, and will use its local supplier contacts to launch the service.
Japanese Market Vital to Success
"Any Internet company looking to build a successful worldwide business and brand must have a significant presence and commitment to the Japanese market," said Priceline Chairman Richard S. Braddock. "We want this new enterprise to hit the ground running, so our goal is to establish strategic alliances with the best companies and individuals to help deploy international ventures at Internet speed."
Priceline said it will purchase a convertible bond allowing it to take a "significant equity position" in the new company "under certain conditions." Until the bond is converted, Priceline will not have an equity stake in the venture, so its results will not be reflected in the U.S. company's financial statements.
No date has been set for the launch of the Japanese service. The companies said the timetable depends upon negotiations with domestic airline companies and government regulations. The deal is subject to the negotiation of definitive agreements and to other conditions, Priceline and Softbank said.
Priceline Expands as Shares Languish
Priceline has been aggressive in its international expansion this year. In June, the company announced a plan to expand into Europe, and moved earlier this year to target China, Hong Kong and other Asian countries, as well as Australia and New Zealand.
Priceline shares, which closed at a 52-week low on Friday, rose 15/16 to 25 7/16 early Monday following the announcement. The stock has slumped along with other e-commerce issues, despite the fact that the company last week reported better-than-expected results for the second quarter.
At the time, President and Chief Executive Officer Daniel H. Schulman said the company is "on the homestretch toward profitability."
The European venture is being launched with investment partner General Atlantic Partners LLC, and the Asian venture with Hong Kong's Hutchison Whampoa Ltd. The company opens local offices as needed, said spokesman Brian Ek.
Softbank holds stakes in more than 400 Internet companies, including Yahoo!, E*Trade and ZDNet. The company has joint ventures with such companies as Microsoft Corp., Cisco Systems, Vivendi and News Corp.