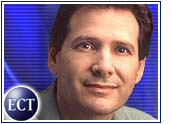 Name-your-own-price Web retailer Priceline.com announced Wednesday that it is teaming with Internet investor group General Atlantic Partners LLC to launch Priceline.com Europe in the fourth quarter of this year.
Priceline.com Europe will begin by offering airline tickets, hotel rooms, rental cars and long-distance telephone services in the United Kingdom, Germany and France. Other products and services will be announced at a later date.
Third International Venture
The European venture is Priceline's third push into international markets, having forged into China, Hong Kong, India, Taiwan, Indonesia, Singapore, Thailand, Korea, Malaysia, the Philippines and Vietnam through an alliance with Hutchison Whampoa Ltd.
The company also created a new subsidiary, MyPrice, to sell products in Australia and New Zealand.
Executive Level
Dennis Malamatinas, chief executive of Burger King Corp. and a director of the restaurant chain's parent, Diageo Plc, will join the new unit as president and chief executive officer on September 1st.
"We believe that the European markets will respond favorably and quickly to this consumer pricing model," said Malamatinas.
Priceline Chairman Richard S. Braddock commented that because of the importance of the European market, the company put a "strong core management team" in place.
Licensing Agreement
The new company will license Priceline.com's business model, paying the U.S. company an annual fee. Priceline.com will not hold an equity stake in the new operation until it exercises a warrant to purchase a majority stake in Priceline.com Europe, and the European operations will not be included in Priceline's financial statement.
General Atlantic Partners is providing "significant financial support" through the purchase of an unidentified amount of equity securities in the new company. It is also providing operational and strategic support.
Proven Business Model
"Priceline.com has clearly shown itself to be one of the most compelling consumer and business propositions on the Internet," said Florian Wendelstadt, a principal of General Atlantic's UK operations. "It is one of the top e-commerce businesses, and has a proven and sustainable business model in the United States."
The company reported smaller-than-expected losses for the first quarter of 2000, due in part to the success of a quirky television advertising campaign featuring Star Trek actor William Shatner.
General Atlantic Partners has invested in other Internet companies, including E*Trade Group, Inc., Proxicom and Belle Systems.