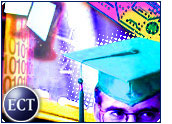 Twenty-two-year-old chief executives are hard to find at e-commerce trade shows these days. Until the tech shakeout began in full, dot-com stardom had been the reward for many young entrepreneurs.
Now, launching a career at the apex of a corporation is about as rare as a dot-com going public.
Paying dues, rather than collecting bonuses, typifies today's entry-level e-commerce jobs. In fact, it is now an employer's job market, with companies picking stingily, if at all, from a swelling supply of dislocated talent.
For strong-willed and well-trained graduates, however, there are still plenty of opportunities to break into the e-commerce field. According to observers, administrative roles and internships may be solid bets, while technology positions will continue to be filled by the best and brightest.
Additionally, as many high technology firms restore fundamental business practices, finance and accounting job openings are materializing.
Code Pays
Software engineers are commonly in the highest demand at e-commerce companies, and current economic conditions have not changed that fact.
"There are more people waiting in queue," Boston University professor of computer science and e-commerce Vijay Kanabar told the E-Commerce Times. "But students who know the right stuff like Extensible Markup Language (XML), Active Server Pages (ASP), and Java Server Pages (JSP) are getting jobs."
Two entry-level job titles that Kanabar continues to see in the marketplace are Web designer and programmer analyst.
eBay Bucks Trend
Technologists are highly sought after by e-tailers like eBay (Nasdaq: EBAY), but the e-commerce heavyweight is also seeking entry-level candidates for a number of departments, including customer support, finance and administration.
"We continue to hire across the board," eBay spokesperson Kevin Pursglove told the E-Commerce Times. "We are in a fortunate position."
Though many of the 55 jobs recently posted on eBay's site were middle-to-upper level, Pursglove said the company operates an internship program for recent graduates.
Crunching Numbers
Academic trends often reflect current and projected employment demands. Taking a cue from the curricula at top universities, Kanabar sees finance and accounting as opportunity areas for the next batch of graduates.
"I think it reflects a correction in good business practice and focusing on the basics," Kanabar said.
Similarly, many matriculating students at the Massachusetts Institute of Technology's Sloan School of Management are carefully considering the current economic slump in their academic planning.
"Two years ago, I might have chosen to concentrate on e-business," said Lilac Berniker (class of 2003), who has an advanced degree in science and has worked as a Web applications designer for four years. "Now, I am planning to concentrate more heavily on finance to complement my technology background."
Added Joy Masterson-Weir, another member of Sloan's class of 2003: "Recent conditions may cause me to think more about whether to enter the entrepreneurship track."
Anybody's Guess
The upcoming months and years of entry-level employment in e-commerce are, along with the overall economy, getting more and more difficult to forecast.
Indeed, many managers are "checking their fortune-teller's cap at the door," according to eBay's Pursglove.
For now, Kanabar advises his students to blend e-commerce courses with database systems, finance, and other complementary disciplines, and to focus on growth industries like biotechnology.