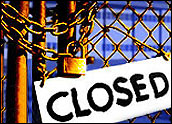 PlanetRx.com said Thursday that its board of directors approved a plan to liquidate all of thee-tailer's assets, in an attempt to regain some cash for its shareholders.
Holders of PlanetRx stock will vote on the plan — which marks the abandonment of previous intentions to enter the US$14 billion a year specialty drugmarket — at a company meeting scheduled for June 12th.
The liquidation plan includes selling off all remaining assets, includinga distribution center in Memphis, Tennessee. PlanetRx has already putseveral of its key domain name holdings up for sale.
Last Round?
"PlanetRx.com's Board of Directors has concluded that a plan ofliquidation presents the best option to preserve remaining shareholdervalue," chairman and chief executive officer Michael Beindorff said, adding that the plan wasagreed upon "after months of deliberations and evaluations."
The company hopes that the liquidation plan will enable PlanetRx toavoid bankruptcy. According to Beindorfff, the liquidation plan, which is being refined by its attorneys and accountants, is designed to sell off the assets in an "orderly and efficient manner."
Looking for Niche
In February, PlanetRx announced that it would get out of thehealth and beauty e-tail business as of March 12th, when it shuttered itsonline store and referred prescriptions and other customers to longtimecompetitor Drugstore.com.
At the time, PlanetRx also said it had entered into an agreement toacquire a small, unnamed company in the specialty drug field and intended to enter that market. PlanetRx said that the niche market for drugs used only by a small percentage of the populationis worth $4 billion a year in the U.S.
Early Orbit
PlanetRx had one of the more dramatic stock price run-ups in1999, peaking at $292 a share in October of that year. On Thursday, itclosed at 27 cents, just above its 52-week low of 22 cents.
When it reported earnings for the fourth quarter last month, theMemphis, Tennessee firm said that it had less than $9 million in cash onhand, down from more than $116 million a year before, and had lost $10million during the previous quarter.
PlanetRx also warned at the time that an upcoming audit would raisequestions "regarding the company's ability to continue as a going concern."