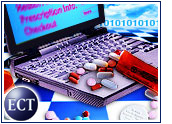 After struggling to secure an infusion of capital, ailing online pharmacy PlanetRX.com announced Monday that ithad stopped accepting new prescriptions, effective immediately, and will discontinue the sale of health and beauty products from its Web site on March 12th.
The company will refer its former customers to rival Drugstore.com.
PlanetRX.com has already taken steps to sell the company's distribution center and other assets, and said it intends to shift its focus to fulfilling specialty prescriptions.
According to PlanetRX.com chairman and chief executive officer Michael Beindorff, the shift towards the specialty pharmacy market is "an effort that we have been working on for quite some time."
The company has high hopes for its future in the specialty pharmacy business, which it said accounts for US$14 billion in annual sales in the U.S. and has a greater growth rate than the overall pharmacy market.
Good Intentions
San Francisco, California-based PlanetRX.com also said it had signed a binding letter ofintent to acquire a yet-to-be-named existing specialty pharmacy business. Planet RX.com anticipates finalizing the agreement by February 21st, the date it issues itsfourth-quarter and year-end earnings report.
Beindorff said that the agreement would allow PlanetRX.com to apply its health care expertise and other assets to "a faster-growing,less costly, higher-margin business opportunity."
The agreement is contingent upon approval by its board of directors.If approved, the company will operate the new specialty prescription business through its current namesake Web site.
Drugstore.com's Gain
In a bid to lure PlanetRX.com's existing customer base, Drugstore.com will start notifying the company's 1.4 million members this week about the impendingclosure through announcements on its site and e-mail messages.
To ease the transition, PlanetRX.com said the deal it brokered withDrugstore.com would allow for the electronic transfer of all prescriptiondrug accounts to its former competitor, although participation in thereferral program will be voluntary and information will be shared only atthe request of customers.
"Through this arrangement, PlanetRX customers will continue to receive lowInternet prices on their prescriptions, as well as enjoy easy access to aconvenient online store," Drugstore.com chairman and chief executive officer Peter Neupert said.
Not Pretty
Like many other e-commerce sectors, the online health and beauty industryhas struggled in recent months. This past fall, market research firm InsightExpress issued a report calling online pharmacies a "prescription for failure," saying that 93 percent of online shoppers had never made a purchase from an online drugstore and 76 percent had never even visited one.
PlanetRX.com saw its fortunes wane with the market slide. In January, the company was delisted from theNasdaq after failing to climb above the $1 mark in trading.
Looking at Drugstore.com
By comparison, Drugstore.com has not reached the breaking point that other Web merchants have. Despite staff layoffsand an executive departure last month, the Bellevue, Washington-based company reported a narrower-than-expected loss for the fourth quarter and said thatnet sales for the period topped sales figures for all of 1999.
Drugstore.com also said that during the fourth quarter, it added 257,000 customers to its roster — a number that will spike again with the transfer of PlanetRX accounts. Drugstore.com has an alliance with Internet giant Amazon.com.
Drugstore.com said that it can reach an operating cash flow of breakeven in 2004 with the cash it currentlyhas on hand, which was approximately $130 million as of the end of the fourth quarter, according to the company.
Investors in the company appeared pleased with the news that Drugstore.com wasgaining a new customer base. On Tuesday morning, the stock gained 19 cents to reach $1.50, well off its 52-week high of $31, butmore double its 52-week low.